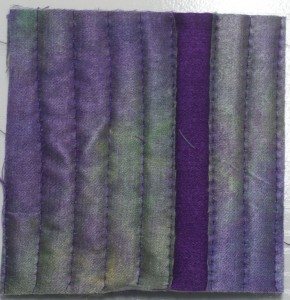 I had a busy and productive week-end. Yesterday was our spring critique for the group of Oregon fiberartists that I am part of. Marci Rai McDade, former Fiberarts editor and now Surface Design Journal editor, was our guest critic. She lives near me and when I asked her about a possible critic for us, she volunteered.
Every critic we have had has a different emphasis in their comments. Marci, as an editor, was most interested in the story that the art told. She also commented on visual impact and design elements. I had my Walking with Scooter and Mr C piece. She thought it was very successful, but was put off by my black screen prints of Scooter and Mr. C. I see her point and I wish that I had put the screen prints on the base fabrics so that they were not so prominent.


It is not as obvious in the photo as it is in person. I also had another piece that I am almost finished with. I will show that later.
Today, after church, I had a phone meeting with a consultant who is helping me conquer the Filemaker database for Artists Among Us. I have a load of inventory to enter in the system and we worked out details for upgrading it and making it more user friendly.
It was gorgeous weather this week-end. I think we will have one more beautiful day and then it will get rainy again.
I managed to get 6 more 3 x3s done. I am almost caught up.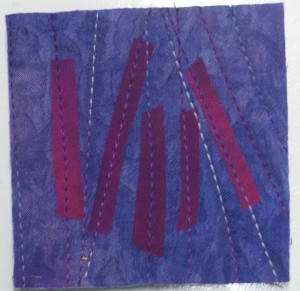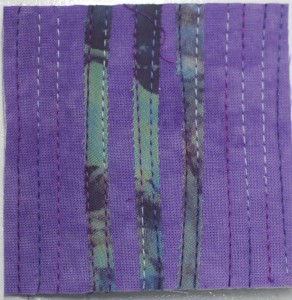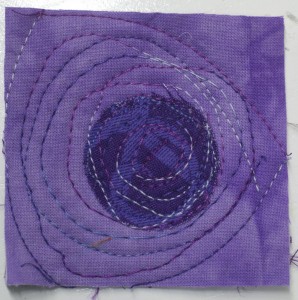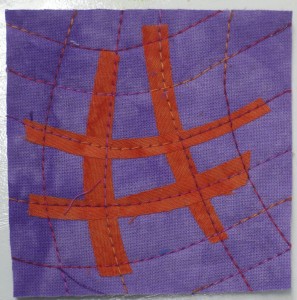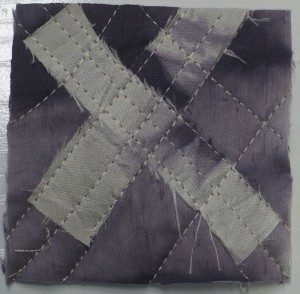 Back to watching Mad Men.