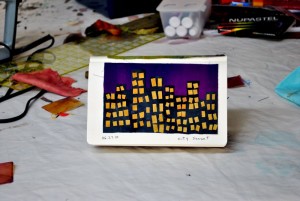 We have had a plethora of sun. It is there when we wake up, and it doesn't set until 9 pm. The temperatures have been mostly in the 70s — just perfect. For today's sketch. I attempted a city sunset – where you get that rosy glow off in the distance.
We had such a good time with M & M on Friday. We all love Toy Story 3 and then we went out for sushi (after a side trip to REI to buy Grandma a new pair of Teva's)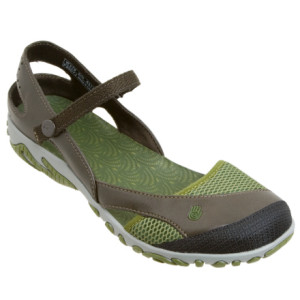 Here we are at the sushi bar.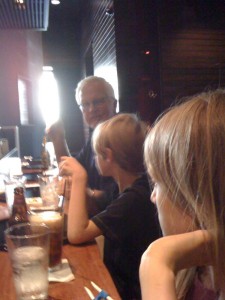 I loved the soy sauce container.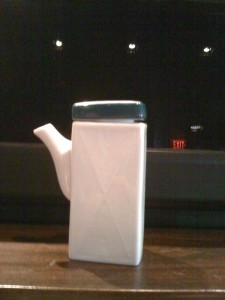 Here is Mia enjoying her California roll.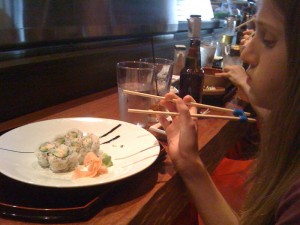 On Saturday morning, the parents came to retrieve them and we all spent the morning tromping around the neighborhood giant garage sale. I bought a bunch of National Geographic for 10 cents each. Mia is always looking for something to read. I also bought a small indigo batik piece. I am not sure what it is. It has pockets. It could be an apron, but there are no ties. I will try to post a photo tomorrow.
Today, after church, I got a lot of work done in the garden. I planted some zinnias, marigolds, an eggplant and a couple of cucumbers. We also got the drip irrigation system going. Our raspberry plants are finally bearing fruit.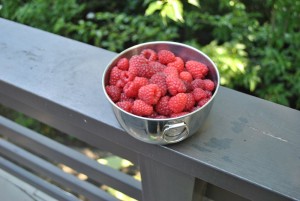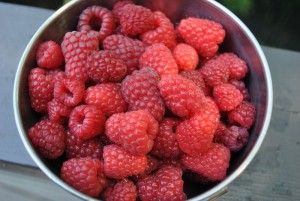 Can't wait for breakfast tomorrow.
After the gardening, I de-cluttered the house. I knew I would be stalled tomorrow if I had to face a messy house. Now I am ready to face a busy week of appointments and time in the studio.
Hope you had a great week-end, too!