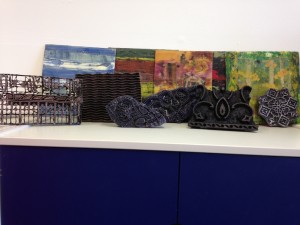 I didn't realize that a week had gone by and I only posted Wordless Wednesday. I am a bad blogger. But, I have been very busy. We had the opening of the New Heaven, New Earth show last Friday. Here are my two pieces in the show.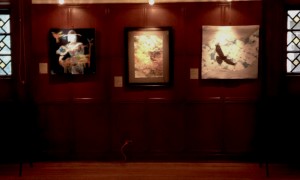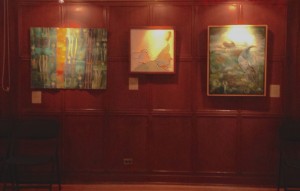 We had a good turn out at the reception and have sold a few pieces of art. We gave a Genisis award for best interpretation of the theme. It was won by a quilter from Montana who used to be a member of Trinity and comes back in the spring to be in this show.
On Saturday night, we went to a gala dressup fundraiser dinner for an organization that provides quality experiences, such as summer camp, for abused children — Sparks for Hope. We were invited to be at a table put together by one of Steve's former co-workers. I was thrilled to be able to get into the dress I bought for Lisa and Clay's wedding. Speaking of which, how great is it that gay marriage is no longer banned in Oregon! State by state, we are winning.
Sunday, I took part in a forum at Trinity. The artists in the show talked about our inspiration and other things. I also sat at the show on Sunday afternoon and got a sale, just as I was packing up!
I have spent a bunch of time getting my studio set up. Almost there! Today, I wrangled four 2 foot by 4 foot insulation panels and taped them together and covered them with flannel to make a 4 x 8 design wall. It was a bit hysterical as my studio is not that big so there is no place to lay stuff on the floor. I guess I could have gone out in the hall!!
The photo at the top is of my tjaps and printing blocks on display in front of my encaustic experiments. I have utilized the back of the door for some hanging storage.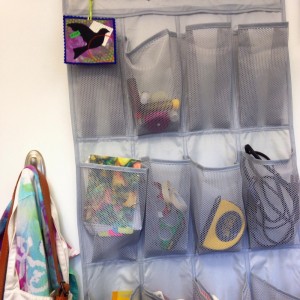 We also put up lots of shelves for storing stuff where I can see it.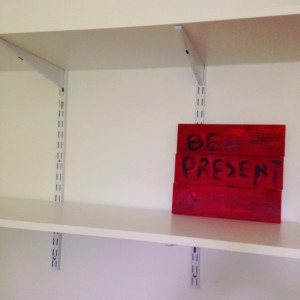 I have also been to a couple of meetings this week — High Fiber Diet on Tuesday night and SAQA on Wednesday, followed by lunch with a group of friends.
We continue to get the condo in order. I hung a bunch of quilts and other art in the hallway and bedroom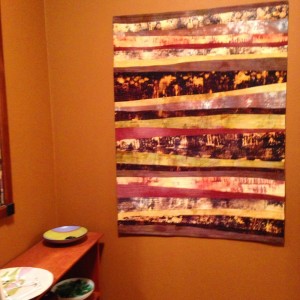 I hung Motherlode in the entry way and realized it has the complete color palette of our new home!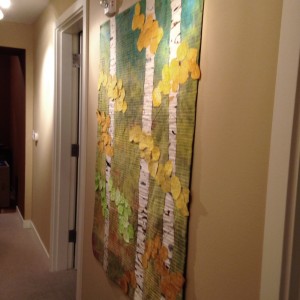 One of my aspen quilts graces the hallway.
I also hung some of my work in the bedroom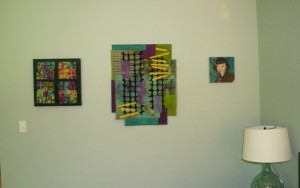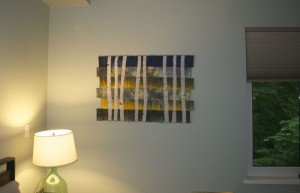 We bought a nice little glass topped desk at Crate and Barrel for my desktop computer. It is a lovely place to work and look out on nature. It is in the bedroom.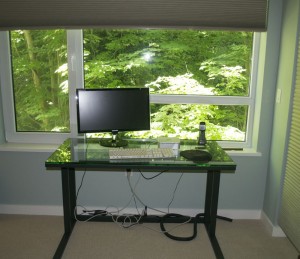 This is the really cool walnut dresser that we found when we went on our hunt for Midcentury Modern furniture.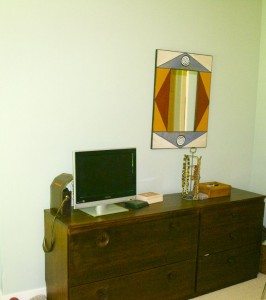 That wall needs some more art, don't you think?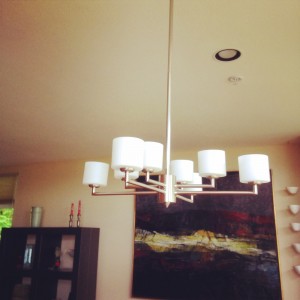 Our chandelier arrived this week, too. And with much ado, we got it installed.
Today, we walked up to the Rose Garden from our home. It is a good hike — straight up — but it only takes about 15 minutes to get there. Portland is known as the Rose City and the rose Festival is happening, soon. Here are some photos. The first is a view of  Big Pink from the garden.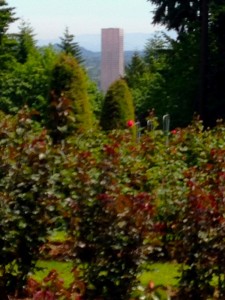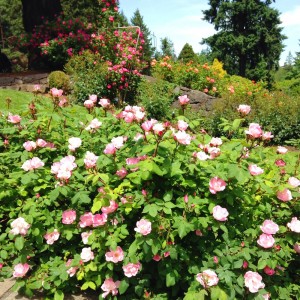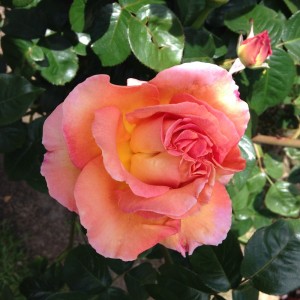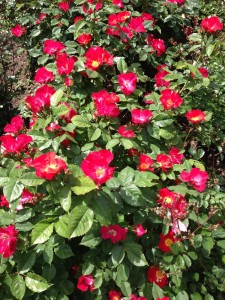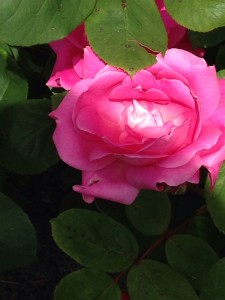 Walking home is a breeze because it is down hill most of the way.