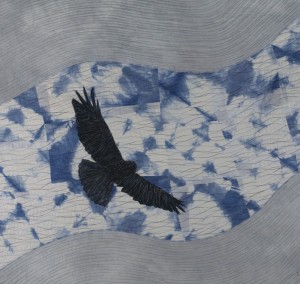 I spent most of today getting ready for and then checking in art for the Trinity Artists Among Us exhibit – A New Heaven and a New Earth – taken from Revelations. I took a climate change view of this and focused on the earth that we humans are creating. Soaring, above, and Kelp Dance, were juried into the show.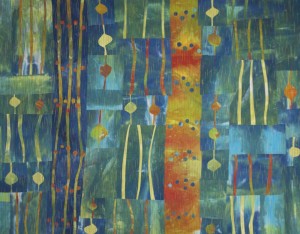 There are two other fiber artists in the show. Here is some of the art waiting to be hung tomorrow. Reception is Friday, 6-9 pm, if you are in the Portland area – come by for wine, good food, some jazz and art.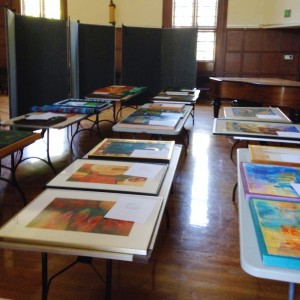 I have a favor to ask of you. I think I have mentioned in the past that I have made a panel for the Dream Rocket Project. Jennifer Marsh has had this dream and has worked for years to see it come to pass. She wants to fabricate a framework of 42 hoops that will fit around the 363′ Saturn V Moon Rocket, without touching the rocket itself. 8,000 artworks will be installed around this structure to create a temporary public artwork.
She needs some grass roots funding to get this off the ground. You can click on the Kickstarter link and donate as little as $1.00. Every little bit helps. It would mean a lot for Jennifer and her team of artists, that includes many, many school children, to get this off the ground!! Hope you can kick in a little. Thank you!!