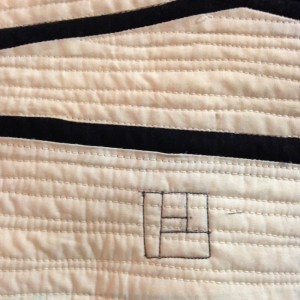 I know that I have been missing from the blogisphere, but I have had a lot going on. I lost two days earlier in the week because I had a colonoscopy on Thursday and Wednesday was prep day – stayed close to home. The good news is that it was all clear and I don't have to go back for another, ever.
And, I have been working to get three quilts finished and ready to photograph tomorrow. One, I can't show you, as it is for a special project and I have been asked to keep it under wraps.
The other two are for the annual High Fiber Diet show. This year, our theme is Making Our Mark, done in neutral colors, with minimal other colors.
The mark that needs to be on or part of every piece is that little square up there. I want to submit this quilt: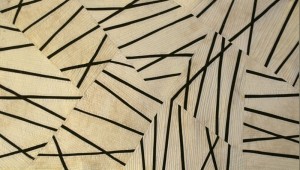 I made it in one of the sizes that the committee asked for, but what to do about that mark. Up above, you can see that I stitched the mark down in the lower left corner so that it sort of looks like a chop mark.
The piece I have been working on all week is photographs of our trip to Glacier National Park. I played with them in photoship and printed them on Jacquard Extravorganza. I fused them to grey cotton and then to gray felt and I have been obsessively stitching on them all week.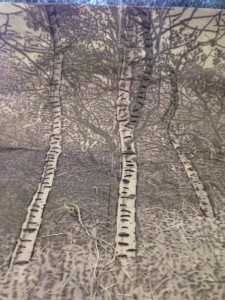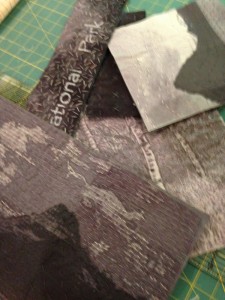 Here they are organized for stitching together. you can see that each segment is a different part of the square so that together, they make the mark.
We also had my daughter's chihuahua for a week while she was in San Francisco taping an illustration workshop for Creative Bug. He is really not much trouble and is very loving. He spent the week on the sofa, behind me while I stitched and recovered from anesthesia.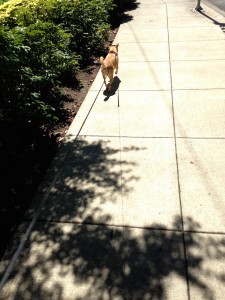 I still have to do facings on two of the quilts in the morning before I photograph them.