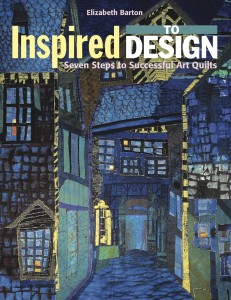 Elizabeth Barton's book is almost here!! I have an advance PDF copy of the book so that I can tell you all about it. It is no secret that I have long been an admirer of Elizabeth's work and  her blog. I used to leave comments on her blog that she should just print all her blog posts in a book and sell it – her blog is that good. Early last year I took an on-line class with her and last fall, she came to Portland and did a lecture and workshop for our guild. It was a treat to have a face to face workshop with her.
I received the pdf of her book this morning and I could not put it down. I read through from cover to cover. She covers seven steps that are important for designing a quilt that is also art. You  start with inspirations and design sketches. She shows you how to start with a photo which can be distilled down to the essence in a sketch — discovering how to crop and find the most interesting part and how to leave the extraneous out. I think that many art quilters put too much into their landscapes and scenes taken from photos. I prefer a more simple abstracted look.
The second step is selecting size, shape and structure. Each section has exercises that are clearly explained and just challenging enough to keep you engaged. The third step is depth and space. This is a topic you don't see covered in many art quilt how to books. She includes many devices for achieving a 3-dimensional illusion.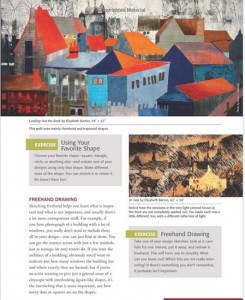 The fourth step is that very important element — value. The importance of having a change of value in your work for visual impact can not be overstated. Elizabeth has some great exercises to help. I loved the fifth step chapter on color. Elizabeth covers all the wonders of working with color and how to choose a color scheme.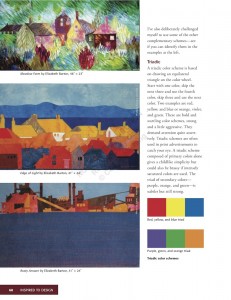 The sixth step in Elizabeth's book involves learning how to evaluate your design. Does it convey your main idea? Does it have harmony and unity? And, the seventh step is putting it all together. She covers working from your final sketch, enlarging via the gird method, blocking out the design, fabric selection and some construction methods.
I have only touched on some of the highlights. You can find the book on Amazon and view some of the pages. I would encourage you to do this. You can preorder the book — I think it ships in May.
The best parts of Elizabeth's book for me are reading her wit and wisdom. This is a woman with a wicked sense of humor and I think it comes through in her writing. The book is also full of her beautiful work. I would want it just to look at her incredible body of work contained in the pages. I wish I had a copy to give away to one of you, but alas, C & T Publishing only sent me a PDF.
On a personal note, I am heading down to California tomorrow with Mr C. I am going to do some shopping for a Mother of the Bride dress on Thursday. On Friday, my daughter-in-law, Jayme, is graduating from Berkeley Medical School with a Master's Degree in Public Health. She is starting her year of rotations among Bay Area hospitals as an intern and will take the boards in May. We are so proud of her. On Saturday, we will celebrate Paige's first birthday. I can't wait to see her and enjoy her happy little personality. It will be a nice family time.