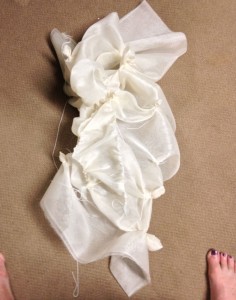 So, after 6-7 months without an upper respiratory bug, I finally succumbed. Over the week-end, I had scratchy throat, earaches, headache, fever and did nada for two days. Yesterday, I had an SDA staff conference call and then a guild board meeting. That about did me in for the day. This morning, I felt as if the virus had subsided, but I now have inflamed sinuses. So, I have been doing frequent saline rinses and tonight I feel much better. I just have to stay on top of it. I have not had any antibiotics this year so far and I would like to continue that trend.
I was going to do some indigo dyeing on Friday before the consumption over took me, but then I realized I needed to prepare some fabric for dyeing. The piece in the photo is shantung silk organza. I have done some special stitching and tieing which I will reveal after it is dyed.
I bought some more prefelt in white and indigo blue. I want to do another stitched and shrunk piece using indigo fabric.
Today, I entered one quilt in the Quilts=Art=Quilts show in Auburn, NY. I have not entered this show in a while. I was in the show a couple of times way back when. Then the show got known and there was a lot more competition. The show has gotten better and better so this may be an exercise in futility!! I will let you know what I entered after I find out if it got in or not.
I will leave you with a photo that I think might need to become a quilt! Maybe an abstraction!