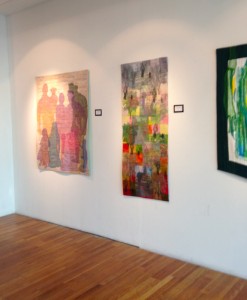 This may be a record for me! Seventeen days since my last post. I don't have any exciting reason. I got a really nasty sinus infection with the worst vertigo. Ended up in bed for a few days. Then, this past week, I had a hectic schedule. On Monday, Mr C and I helped to hang the SAQA Oregon Exploring Layers show at the AIR Gallery in Pioneer Place, downtown Portland. It will be there through May 17th. The Gallery is open Thursday – Sunday, noon to 6 pm. That is Walking with Scooter and Mr C hanging at the show.
On Tuesday, I got caught up with some SDA work. On Wednesday, I joined a large group of SAQA members for a docent tour at the Portland Art Museum of Italian Style, a comprehensive look at Italian fashion from the end of the Second World War to the present day.  It was fantastic. I had lunch with friends and then took the street car back home.
On Wednesday night, I went to Trinity for the latest art short course. This month, we are screen printing. I could, of course, teach this class, but it is fun to be a participant. We used torn and cut paper to make our designs. First, I cut craft paper into rectangles in a pattern. by folding and cutting.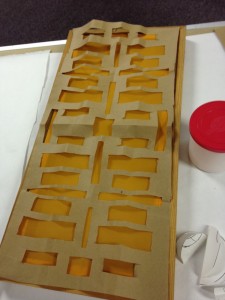 Then, I cut circles in freezer paper.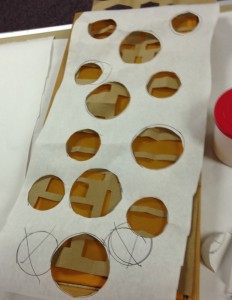 Her is my first print from the rectangles.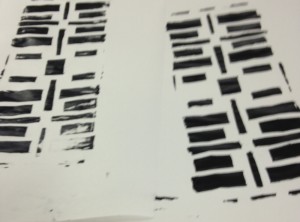 Then, I printed magenta circles.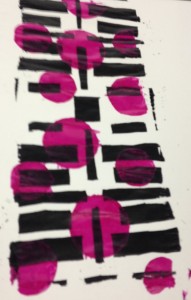 We printed on paper. I am quite happy with this.
On Thursday, I got my neglected hair cut an colored. I felt so much better. Mr C and I took the street car downtown to a symphony concert. It was a one hour free concert for donors, educators and other community folks. It was at 6 pm and and then we stopped at one of the breweries for supper.
On Friday, I got lots of errands done. I found some steel rods to use for my 3-D construction and have started work. Hopefully, I can share some progress tomorrow. I also produced the Constant Contact newsetter for Columbia FiberArts Guild and got it sent Friday night. Whew!
On Saturday, I met a friend at 8:30 in the morning and we drove down to Silverton for our Oregon Critique group meeting. This was the beautiful view of the Silver Lake reservoir from Carol's deck. So pretty and peaceful.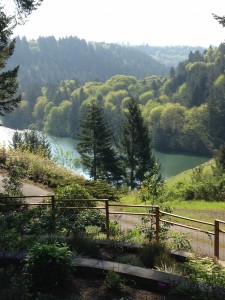 Our critic was an artist from Salem. I thought she was a bit too complimentary of our work. Didn't really get much out of it. I did enjoy seeing the work the others have done.
Betty and I left, Silverton and then went to Pioneer Place to set up for the opening reception of the exhibit. Hung out there until 9 pm, when Mr C came and picked me up. Today, I have been trying to recover from the week and to get caught up on SDA work! Here is a shot from the show. It looks great.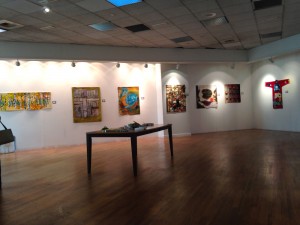 So, now we are all caught up. I hope I can get back to my regular blogging schedule again.