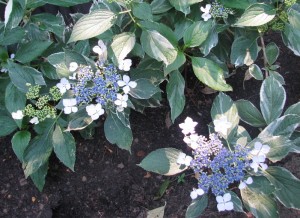 This is a hydrangea that I planted on my studio patio last year. It has just bloomed. I love the lacy blossoms.
I spent some time designing my quilt for the next 12 X 12 challenge — illumination. I am having fun with my idea, but I can't share anything yet.
I painted some of the fabric that I printed last week — the brown circles. I used a limey green Setacolor. I am going to use this for the SAQA 12 inch auction donation.
I also played with some options for the construction piece that I have been redoing. I am auditioning some design elements, and they may get the parts!!
Today a big truck rolled up with all the fixtures for our bathroom — two sinks with chrome stands, the shower fixture with the rain shower head, and the swanky La Cava shower base. Everything is sitting in the garage. There will apparently be a frenzy of activity tomorrow.
I think summer is here to stay. It was a mellow day today. I did a big edit for the SDA auction pages. I also spent some time ordering supplies from Prochem and Thai Silk.