Yesterday was a day I do not want to repeat any time soon. It was the drop dead day for registering for the SDA Conference and getting into the workshop lottery. My phone started ringing at 6 am. In between phone calls, I managed to get some work done on the final show pieces. I still have 3 sleeves to sew and a couple of dowels to attach. I worked on the journal pages which will be displayed with the quilts. Those are printed on ledger paper and ready to go. Mr C has all of the hanging slats done and attached. I learned of a great way to prepare these for gallery hanging on the QA list. I will show it in my next post.
Here is the final version of the Wall of Hopes and Fears and a detail.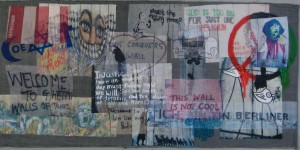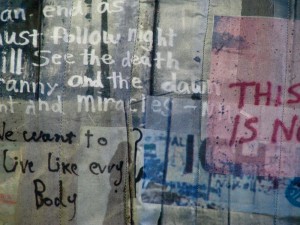 I didn't do the Pomegranate piece I planned, but I like this anyway. I printed several versions of my pom photos on silk and silk organza and collaged them on a hand-dye red. I bordered it with something I found in my stash that worked perfectly, by using the wrong side.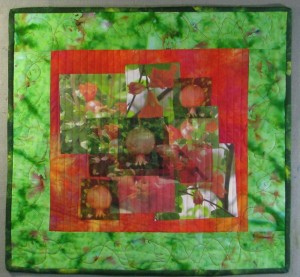 Here is a detail.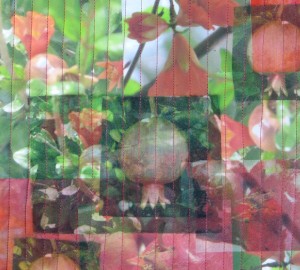 I am hanging the show tomorrow afternoon. I would like to collapse, but I have to deal with about 100 people who want to get into a certain workshop. Steph is coming over on Thursday morning to help me get a handle on it. I will get started tomorrow night. I am waiting for 39 faxed registrations to arrive from the SDA office in California. Most people have asked for e-mail confirmation. That means that we save on postage and paper, but I have to spend more time on the computer creating pdfs of conference materials and sending them out. I am taking a break on Thursday afternoon to get my hair colored and cut.