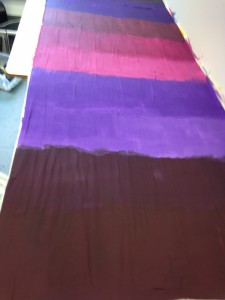 My life was rudely interrupted this past week-end when I started having excruciating pain in my left knee to the point that I could barely walk.  I finally had Mr C take me to urgent care on Sunday when he got home from church. The Dr. I saw thought it was a lateral collateral ligament sprain. I had xrays done and they fitted me with a neoprene knee stabilizer.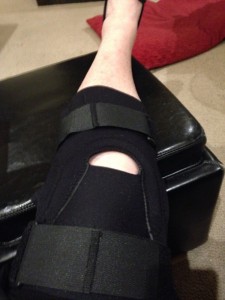 The worst problem I had over the past two days was sleeping. I could not get comfortable and would sleep for 2 or 3 hours and then wake up in pain that made me cry. I would get up and walk up and down the hall and go back to bed and sleep for another short spurt etc. I was wearing the knee stabilizer as prescribed.
Today, I saw the Orthopedic doctor who looked at my xrays from 2 years ago and compared them with the new ones and declared that I have an "enraged" arthritic knee. You could see a big difference. I was relieved that it was not a ligament problem, but sad to know that my knee is wearing out. He said that I am a candidate for a knee replacement at some point.
I stopped wearing the knee stabilizer and feel better already. The pressure points that help to stabilize a torn ligament wear pressing on the arthritic bone spurs and making me feel worse!!
I am a couple of days behind schedule but I can catch up!! As you can see, I got the purple painting done. I also finished the yellows.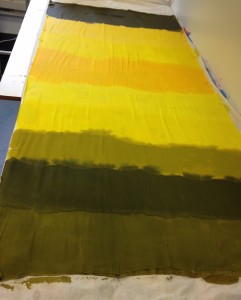 I got the final cuts and prints made for my reduction printing class.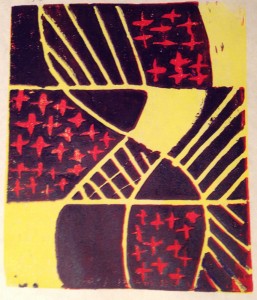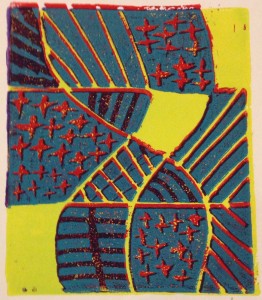 That last layer was not registered very well, but I did it on Saturday when I was in pain from the knee!!
I am taking a Photoshop elements online workshop with the Pixel Ladies. Here is an example of something I did in the first week. I altered the tulip photo.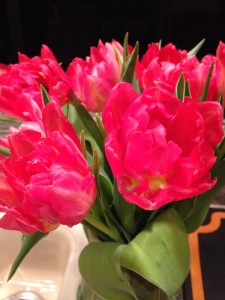 You can see that I cleaned up the background and altered the color. I am learning a lot. I am basically self-taught and this is really helping me.