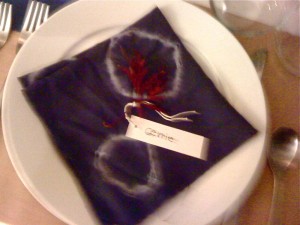 I'm still feeling a bit stuffed, but enjoying the leftovers from yesterday's feast at Steph's home. This is one of the napkins that M & M tie-dyed.(Sorry for the blurry photo that I took with my iPhone.)  Here is how the table looked before we plundered it.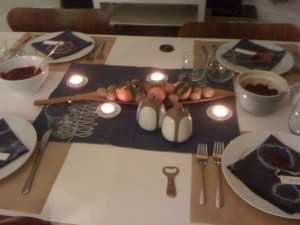 Except for the church key (smile), it looked like something out of Real Simple. Speaking of Real Simple, Steph and Maria's first book, A Year of Mornings, was mentioned in the December issue.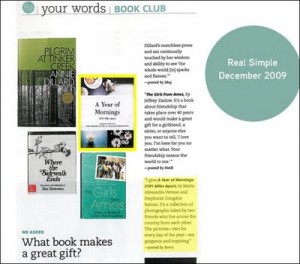 I finally received a copy of the just published, A Year of Evenings. It is a lovely representation of evening light as you go through the year. I am so proud of my children and what they have accomplished.
After dinner we played a new game, at least to me, called Apples to Apples – the junior edition. It was so much fun. I presume that there is a regular edition, too. I must look into it.
The art for today was more work on the pink piece. I am not really enjoying it and so am trying to make it more interesting. Sometimes, I wish I had just done "Pretty in Pink" and be done with it!!