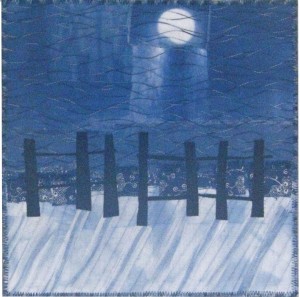 The Twelve X Twelve theme selected by Francoise was Blue/White and a Bit of Black. I just had to dip into my indigo scraps and do up one of my indigo moon landscapes. I used lots of scraps which I fused together with raw and frayed edges showing. Here are some detail shots.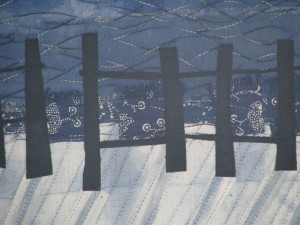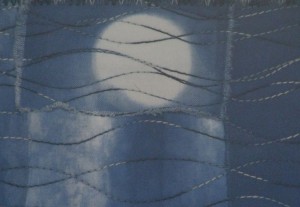 I used a piece of silk with shadowy indigo coloration for the snow. I cut strips of silk indigo shibori for the shadows of the fence posts.
This piece looked very different at one point. I had quilted it and thought it was done. It wasn't.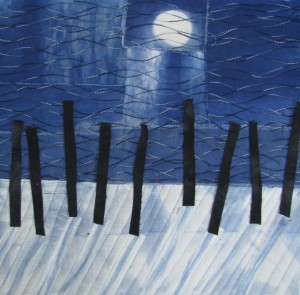 This photo was taken before I screwed up the fence with some terrible quilting. It was an ok piece before then, but after the quilting it was a dog. I went at it with sharp implements and pulled off the fence.
I then added the printed indigo fabrics which were given to me by Kristin and made the fence look more like a fence. I couldn't remove the shadows so I ended up making a wonky split rail fence that works much better.
If you haven't done so yet, go over to Twelve X Twelve to see the other great pieces.