It has been very hot in our town. This means taking walks earlier in the day, drinking lots of water and staying in the cool basement studio getting stuff done.
Before I show you what I have been doing, I just want to say this. Why in heck would I give a rat's patooty to know anything about Victoria (Posh) Beckham. I am sick of the hype!! (Edited to remove the suggestion of profanity!!)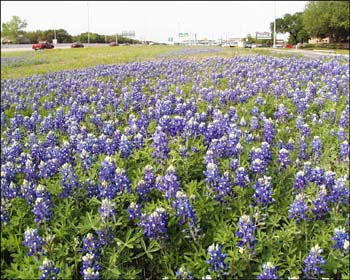 These are Texas Bluebonnets, in honor of Lady Bird Johnson. I adored her. I remember when she started the wildflowers along the freeways campaign. Every time I saw them in California, I would say a silent thank you.
Today, I decided to use some screen printed bamboo with some of my antique Japanese textiles. The first one has a lot of pink and probably does not look very wabi sabi, but I like the combo of fabrics and colors. The screen print is done on one of my discharged fabrics from the class last week. I don't know whether to face it or do a binding in black or green.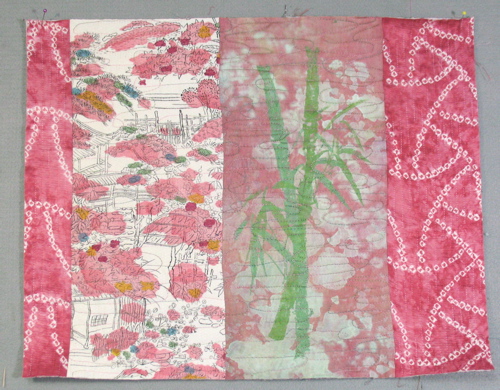 The next piece is fused to black felt. After I quilt it, I think I will do the satin stitch edging. There are two screens on this. One is a discharge which discharged to blue. I decided to screen over it with textile paint to look like a shadow.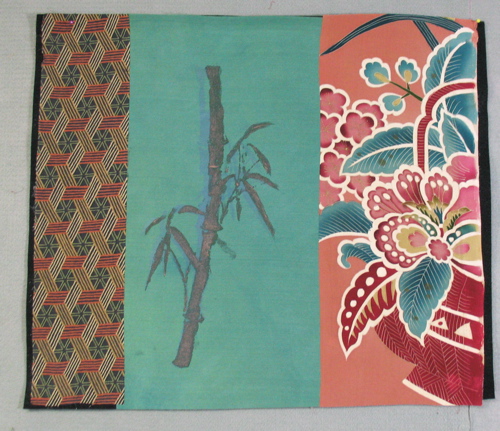 Wednesday is my weigh in day at Weight Watchers. I am happy to say that I have now lost 5 and 1/2 pounds in my first two weeks. I feel pretty good about that because this past week, I did a lot of eating out.
Tomorrow, we are having our Stash meeting at Gale's house. She lives in Astoria, over on the coast. So I have to get up and be ready to take off at 8 am. It will be much cooler there, so it should be a good day. Well, any day with the stash women is a good day!!