I have been working on this piece for an exhibit at Trinity with the theme The Circus of Life. I just had to do this piece because I feel as if Washington DC is a circus with a bunch of clowns trying to govern. Here are details: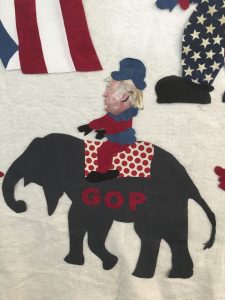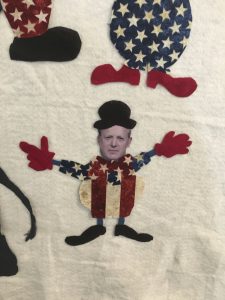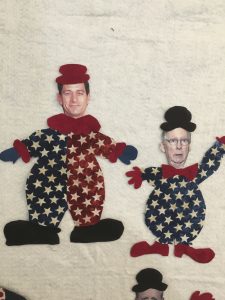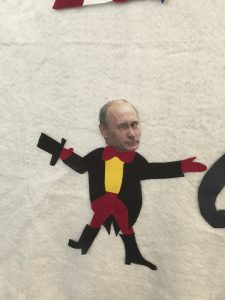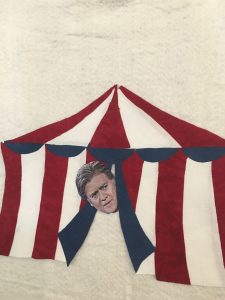 I printed resistance words for the background.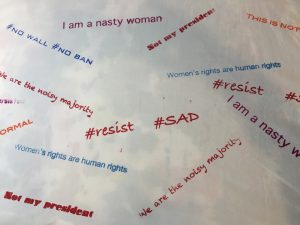 It is very therapeutic to work on a piece like this. I am so frustrated with all  the bad stuff being done to our country. I worry about how we will ever get back to normal and doing things that are actually good for people and the planet.
I have been having fun teaching my wool felt stitching class on Wednesday nights at Trinity. Here are some photos of the designs they are working on.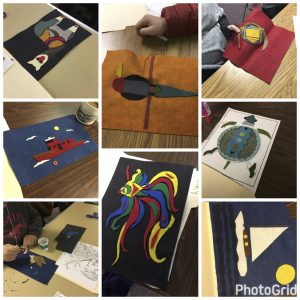 I made this rooster to demonstrate adding the decorative embroidery stitches.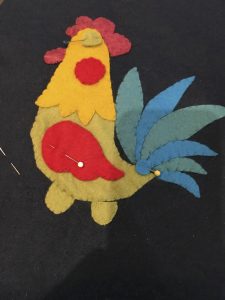 So you can see that I have been busy. I am having some trouble getting around because of plantar fasciitis in my left foot. I miss being able to take Scooter for long walks. Today, I went to REI and bought some New Balance walking shoes and orthotics. I am noticing a difference tonight. But, dang, they are kind of ugly shoes and I so want to have warm weather and to be able to wear sandals again. Hope springs eternal.