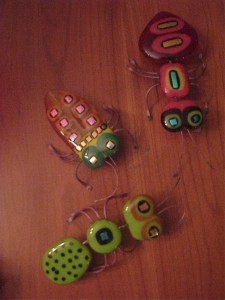 I did a  bit of work finetuning the design of my pink 12 X 12 piece. I need to get a metallic pink look so I pulled out possible materials to achieve the look I want.
My main art adventure for the day was a trip to the Portland Audubon Society Wild Arts Festival. It is a fund raising event for the group. Art Media, a local art store, gave out 6 X 6 inch canvases to artists to create a piece to be sold at the festival. I did a small birds on a wire piece. I don't know if I took a photo. Here is a poster of all of the pieces. Mine is in the third row, fifth from the right side.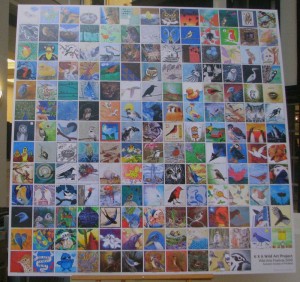 Here is where they were displayed: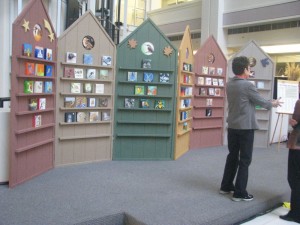 The great thing was that mine had already sold. A vendor near the display told be that there was a long line of people waiting to buy these when the show opened this morning.
Those cute fused glass bugs up at the top of my blog, were purchased at the show. They are each about 3 inches long. They have little holes in their front feet to hang them on the wall.
We thoroughly enjoyed looking at all of the art in this gorgeous building that was once a Montgomery Wards.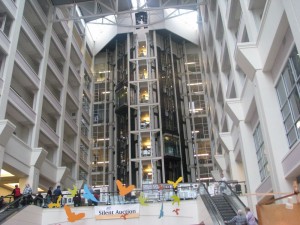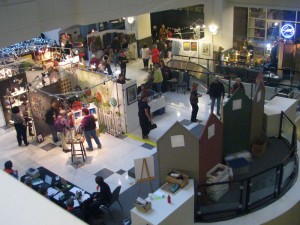 We saw three gorgeous birds.
A vulture: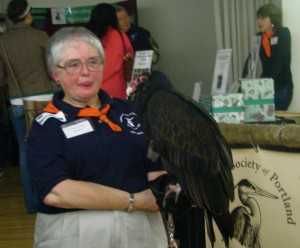 An beautiful Owl: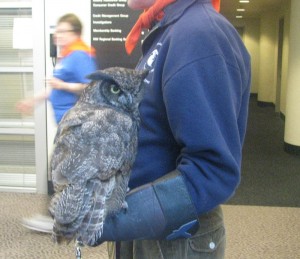 And a raven – so gorgeous.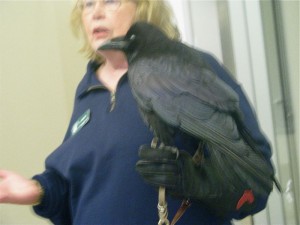 It is a busy week-end. Tomorrow, we go to see Rumpelstiltskin, performed by large puppets. Mia says it is a story that can be told very quickly!! But, my friend Sharon has written the play and I am sure it will not pass by that quickly!!