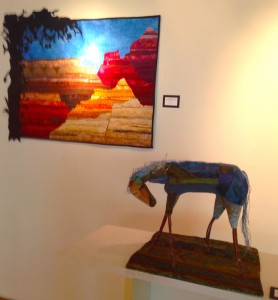 I promised some Facebook friends that I would post photos of the SAQA Oregon Exploring Layers show. I sat the gallery on Saturday and had time to take photos. Above is Jill Hoddick's South Rim, Grand Canyon and one of Chris Brown's charming horse sculptures, View from Rowena Crest.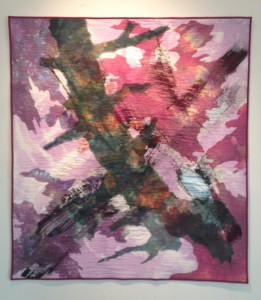 Paulette Landers does exquisite layered abstract pieces that look like paintings: I Once Saw a Tree.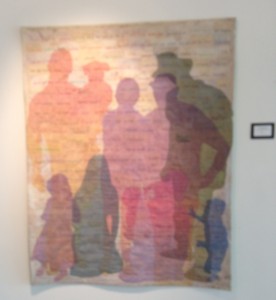 This is Sheila Finzer's You are Unique.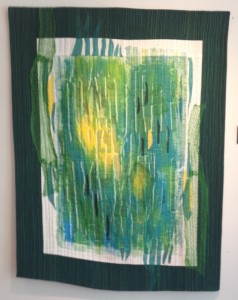 Carol Heist is a wonderful surface designer. She works such magic with textiles: Fractured Green.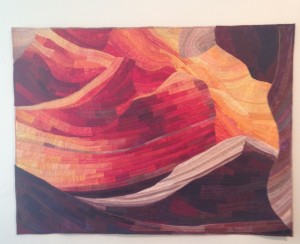 This is Swept Away by Sara Miller.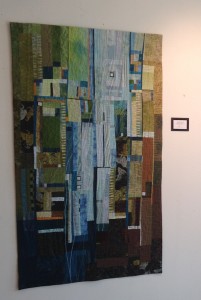 This is Sahalie Falls by Amanda Miller. She has used a lovely combination of machine quilting, hand stitching and couched threads in this. This piece sold at an earlier show.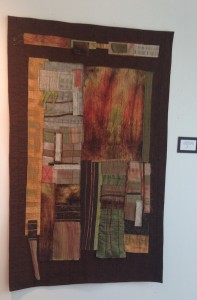 Layers of Influence by Karen Bates.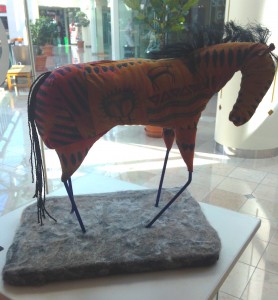 Another horse from Chris: One Who Looks Back.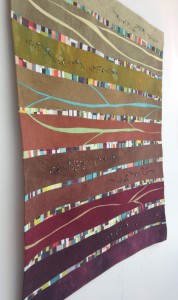 Mary Arnold's Strata. This was facing the window of the gallery so I had to take an angled photo.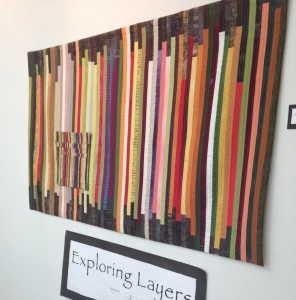 Food Value by Betty Daggett – this was also in the window.
Santa Fe Fences – Sculpted by Time, Sand, Sun. This piece sold here at our last venue. Bravo, Diane Born!!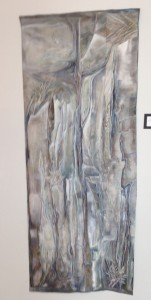 Mary Goodson's painted piece, From Water to Ice. This also sold at our current exhibit space.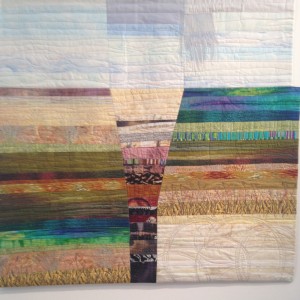 Laura Jaszkowski's Rift Valley.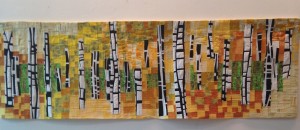 Aspen Lea by Catherine Beard. I love this, of course. Surprised it has not sold.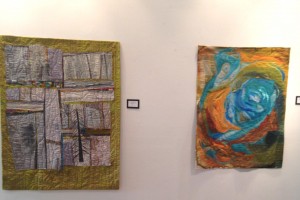 On the left is Rejuvenation by Jean Wells and on the right, Polychromatic Pool by Betty Gientke.
,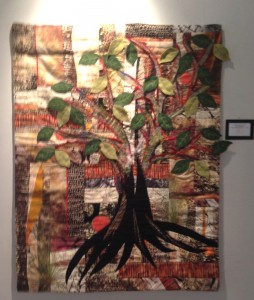 Awakenings by Mary Stiewig.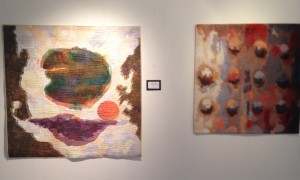 On the left, another piece by Paulette Landers, Ancient Memories and on the right, Rivets 2 by Sidnee Snell.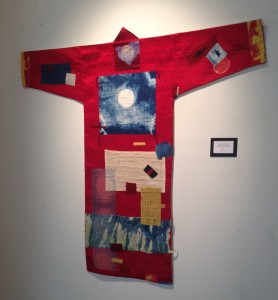 This is the second piece made by my friend Suzy Bates –Riches to Rags – the first one sold at our very first venue.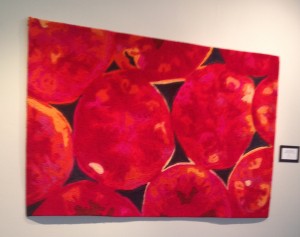 Here is a second piece by Sidnee – Sliced Not Diced.
Canyon de Chelley, 1973 by Anne Daughty.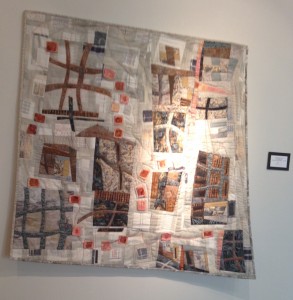 Pathways by Georgia French.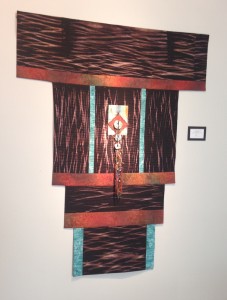 Cascade by Nancy Bryant.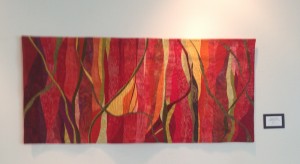 Summer Harvest by Amanda Miller.

This is Diane English's After the Fire II.
I didn't post a photo of Walking with Scooter and Mr C – you have seen it often enough.
I have been busy since I last posted. I made it through my first art quilt workshop at Trinity. I had a lovely Mother's day with my girls.
I have also been working on my Master Class May assignment. More about that tomorrow!