I am one of those people that has to have every thing just so before I begin a project. I can't work in chaos. I can create chaos. Then I have to reorganized or I will just shut down and play computer games. So over the past few days, I finally have taken the time to get everything under control in the studio area.
Last night I cut silk charmeuse in to yards and then in half. This morning I couldn't wait to get up and start mixing dyes. Here I am, looking very scary, but ready to deal with the chemicals or wmd's – whatever may come my way.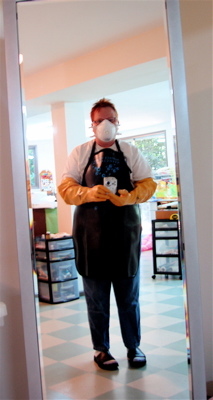 Fabric is soaking in a soda ash solution: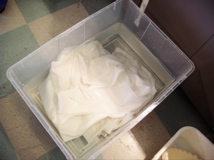 Here are my supplies: mixing box, dyes in a rainbow of colors, measuring cups and spoons and mixing spoons. I spent the money to buy dyes already mixed as I did not want to take the time to mix dyes to get the color gradations that I want. I did do some mixing so we will see how that turns out?¢¬Å'Äû1tonight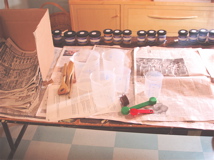 Here are my finished containers of dyed fabrics. I ran out of plastic containers so I had to put some in zip lock baggies.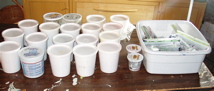 Tonight, I am going to High Fiber Diet with Terry. This is a group of art quilters here in the Portland area. Their big event for the year is coming up – a show and sale of art quilts at the Japanese Gardens in August.
I am also excited to say that Kimono Collage is going off to live with Dee in Northport, NY and Aspen Reflections is going to Teri in Michigan. How exciting is that?