I was so excited to wake up this morning and wash out my dyed fabrics. Here they are ready to go in the washer: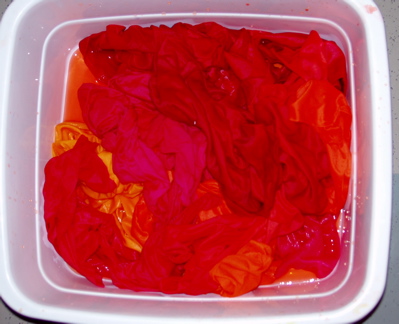 And her
e they are washed, dried and ironed:

I decided I needed some stronger blues and greens so I dyed some more fabric today. I am testing fusibles, trying to decide whether to use Wonder Under or Misty-Fuse. Sometimes I fuse directly to the batting. Liz Berg fuses to cotton and then treats that as a layer which she sandwiches with batting and a back. So I am testing that as an option.
Mr C is constructing a large table for me to work on. Hopefully that gets done before the end of the week cause I am getting itchy to start cutting and fusing.
Last night, I went to my first meeting of the High Fiber Group here in Portland. A very talented group of women!! I love to be around really creative people, it gets my juices flowing.
On Friday, I have my monthly art date with Terry and June, more about that later.
I would like to add that it is hot in Portland, unseasonably hot. So I have felt a little cranky today. Tonight, Mr C and Maggie and I walked down to the Rhodie garden. It totally changed my mood. It was shady with some nice breezes coming in off the lake. The goslings and ducklings were in abundance, waddling and swimming close to their parents. There were families and couples enjoying the evening. I came home in a much better mood.