Playing with thickened dyes is something I have always wanted to do. Now, I have lots of ideas permeating my brain. When we arrived this morning, our potato dextrin pieces had dried and cracked into wonderful mosaic designs. Here, I am applying black thickened dye with a foam brush. This is very tedious and an Ipod with great music is a nice accessory. The dye has to dry and is then wrapped in plastic to cure for 24 hours.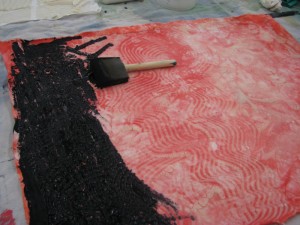 This is the piece that had the masking tape and potato dextrin. I used a combo of black and red thickened dye. I should have taken a photo of the back because you can get a hint of how the resist is working and the wonderful design that is left. This was taken outside in partial sun. (It was nice and hot in Portland, today.)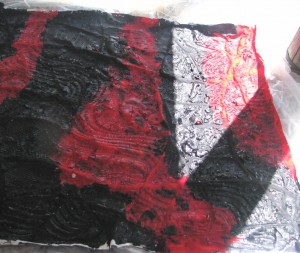 Last night, I posted to the Complex Cloth list about this workshop. Someone mentioned that you can add thickened dye to corn dextrin and paint it on the fabric. Then, when it is dry, you can add potato dextrin and add another layer. So, I had to try it. Here, I have used a thermofax screen (I didn't have the corn dextrin thick enough). I have added a layer of combed potato dextrin over it.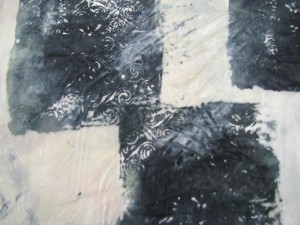 For this piece, I used a construction fence to paint the corn dextrose. After drying, I added potato dextrin.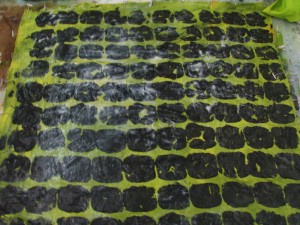 I mixed up a great green dye which I used for the corn dextrin pieces. I think they are going to look great. Today, we had a session on screenprinting, which I didn't really need. I did this torn paper screen print of corn dextrin on this piece.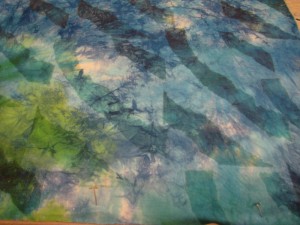 I was so excited to find out that one of the bad girls in the back of the room made this "Bare Rug." Tamara teaches at Lynfield College. The rug was on display and was stolen. You can read about its disappearance, here and its recovery, here. She brought it in for us to see today. This is a first in a series that she plans to do.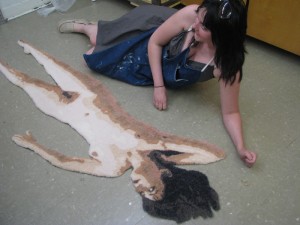 While I was waiting for Reva to drive us home, I saw this adorable young robin, playing in the shrubbery.