(Forgot to mention that my Indigo Construction quilt was juried into APNQ, which will be held in August!!)
I have taken your comments to heart and I really appreciate all the comments you have shared with me.
I found this piece of hand-dyed fabric in my stash. I think this will complement the Construction piece, with a little help. I dribbled black paint with a syringe. I love how this looks: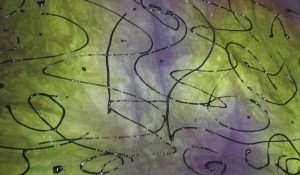 Before I painted this larger piece, I did a small sample to see how it looks. I think this might work for another layer and a focal point on the Construction piece.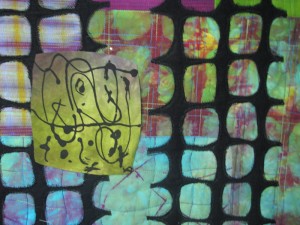 For Kristin, I threw on some thin mustard strips for good measure. I do like adding that bit of color — not sure where or how they will end up. I didn't even know that I had a nice big piece of mustard yellow hand-dyed fabric!!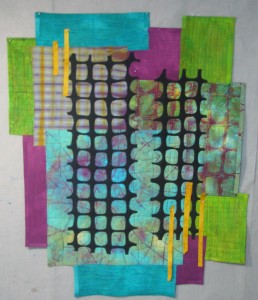 I hope to get some time to work on this tonight. M & M are coming to spend the night, and tomorrow, we are taking them to the Evergreen Aviation Museum near McMinnville. Mr C really wants to see the Spruce Goose, which is housed there.
My week is getting away from me. I start a class with Jeannette DeNicolis Meyer on Thursday, Working with Liquid Resists and Thickened Dyes — Woo Hoo! It is at the Oregon College of Arts & Crafts for 4 days.
The dry-wall guy is finishing today. I had to get paint selected for the bathroom as they will do a coat of paint before the tile is installed. Yesterday, we went to IKEA and the Container Store to check out fittings for my new closet. We decided to go with the Elfa System, although, IKEA has some really cool accessories.