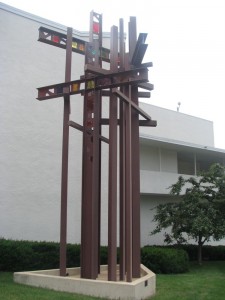 Literally! I thought it was Friday. I am so confused, but I am home. I can't wait to sleep in my own bed. This morning, I packed up my belongings and filled 3 suitcases, even though much of the registration stuff was left in KC. Hmmm!
I took a walk in the humid air to the Community Christian Church a couple of blocks from the hotel. It was designed by Frank Lloyd Wright. Here is a link to its history.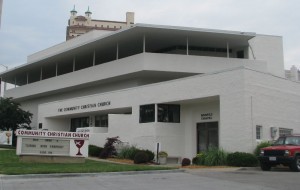 One of the SDA artist's had an exhibit in their gallery which I had not seen. One of the folks in the church was kind enough to turn on some lights so that I could see the sanctuary which seats 900 people.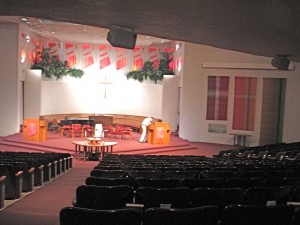 The gallery is on the thrid floor. Heather Allen-Swarttouw had a show of very spiritual images of boats and other imagery representing our travel through life and the changes we encounter. Her work is strong yet delicate with hand stitching and beautiful marks. Here are a few images.
A detail of the beautiful stitching: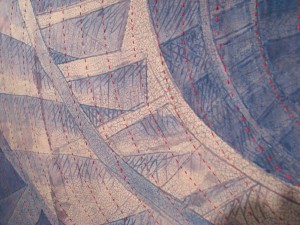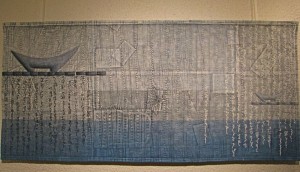 Such beautiful work!!
Mr C made me a delicious meal of grilled chicken sausages and salads from New Seasons. So nice to eat in my own kitchen. Well, it is past my bedtime in KC. I am not sure if I can stay awake much longer.