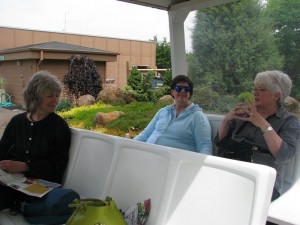 Today, four of the STASH group went on a field trip to the Oregon Garden in Silverton. A Frank Lloyd Wright house is next door to the garden and Reva and I toured it without Terry and Gale as they had already seen it. Here is the group waiting for the tram to give us a leisurely ride around the garden.
Here is the FLW designed house, known as the Gordon house. It was originally built nearer Portland and was moved, a few years ago, to its current setting. It was due for demolition – imagine that. The design for this house was a modification of a family home which FLW designed for Life magazine. (Note: I should have mentioned that FLW called these Usonian Houses. Click here for more information about the house.)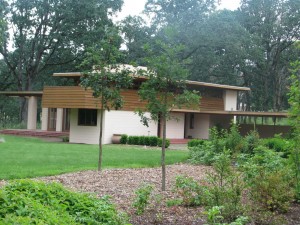 Here are some interior shots. Here you see how the interior matches the exterior, an FLW design element.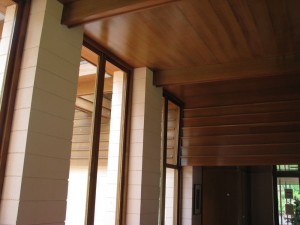 For the less expensive family home, FLW designed these windows with an abstract wood design instead of the stained glass windows in his higher end homes.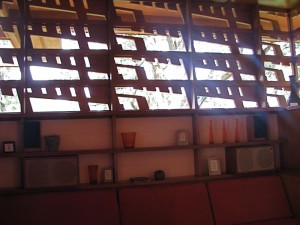 The floors inside and out are stained concrete.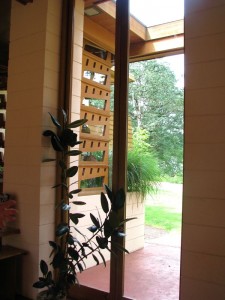 The kitchen was small and was designed so as not to be seen from te living area. How cool is that paneled refrigerator – original to the house.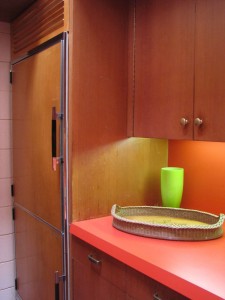 The house had 3 bedrooms – 2 up and one down and 3 full baths.
When the house was moved, the top half was moved intact. The bottom half was dismantled and only the built-ins, windows, appliances, etc were moved. The rest of the first floor was rebuilt and then the top floor was reattached. Pretty amazing.
After lunch we toured the garden and then did a little bit of walking around the water features. I got these interesting and inspirational shots.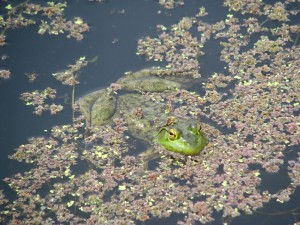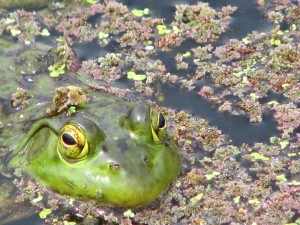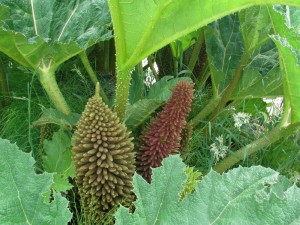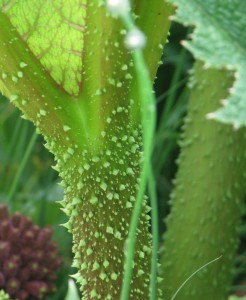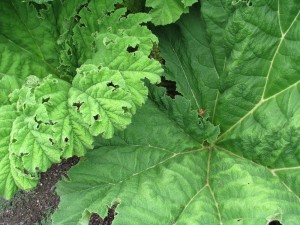 You can see all of my photos from the day on my Flickr Set.
Tonight, Terry and I met up again at the High Fiber Diet meeting. Terry was in the spotlight and got to tell about her art quilting journey. I learned lots of new things about her and saw some quilts I had not seen. I should have been taking photos, but was so enthralled with her presentation, that I forgot!
I did get a photo of a guest from Alaska who lives an amazing life, working out on the Alaska pipe line.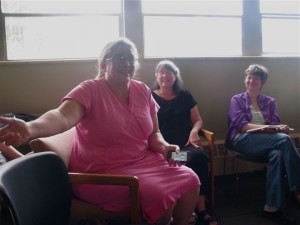 She has a wonderfully written blog. She does not blog often, but when she does, she writes beautiful stuff. Her name is Linda Powell. Her blog is called Sweet Dream Baby. I particularly recommend this entry: to walk is to dream. Linda is a fiber artist and a friend of Bonnie Bucknam. Bonnie is our current coordinator and keeps our meetings interesting and moving along.
And to close, I just had to share this silly photo of Scooter. He looks like he has a doofus grin!