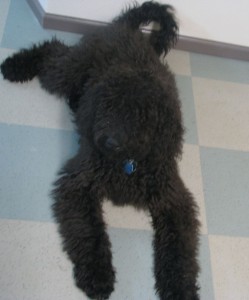 First, a Scooter update. He is a growing boy. Loves to annoy Maggie. Is housebroken as long as we get him outside several times a day. He is still calm and loving. His favorite spot is down in my studio and he also likes romping with the big dogs on the Reed College lawn. I am going to take him to the groomer's this week for a summer hair cut. Mr C does not want him to look like a poodle!!
I think I have finally recovered from the conference frenzy. I was quite ill over the week-end. Every joint in my body ached and I could barely get out of bed. Today, I feel great. Lots of sleep seemed to be the cure.
Since I haven't done any thing creative of my own, I want to share lovely, handmade gifts with you.
First, is this beautiful piece by Sue Reno, which she gave me when she was here for a visit last month. I have always been a fan of her work. It is titled, Plume Poppy #32.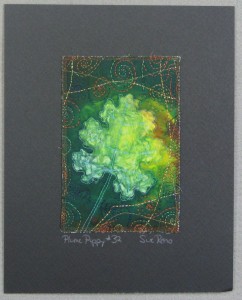 Today, I received a package from Belgium. In it, was this lovely piece of art from fellow Twelve X 12 artist, Francoise Jamart. The message on the card said, "From a new Grandma to a seasoned Grandma." She has a beautiful new granddaughter. She also sent me some wonderful fabric. Thank you, Francoise!!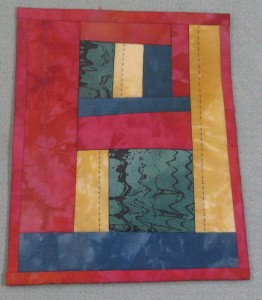 I also took some photos of some purchases I made in KC. I bought this great lime green shibori kimono jacket and an apron in red (no photo of the apron).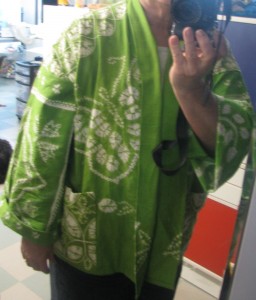 I also purchased some Ink Aid from Kathyanne White who taught a class on printing on uncommon surfaces. I want to compare it to Golden's Digital Ground.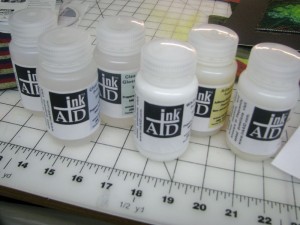 I have one more report to write and my expense account to assemble and then I am done, done, done. The conference was an incredible experience. As Judy said to me one day, every one here understands what I do and they value it. Well, she didn't use those exact words, but you know what I mean. The other thing I loved is the cutting edge techniques and art that was part of this conference. My mind is still reeling. I want to get back to work in the studio!!