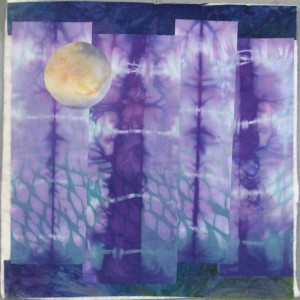 I did it. I finally made it into the studio and took the rotary cutter to some fabric. I looked at the original piece of shibori fabric and suddenly saw a murky forest of trees and vines. I need to do a 12 inch square piece for the SAQA auction and got inspired to cut this up and assemble an abstract landscape.  The piece of fabric was not large enough so I had to add some other fabric for a forest floor and sky. Here is the original fabric. I had not looked at it from the other orientation!
I seem to be getting some focus back. I am generally more tired than I like to be, but it is peak allergy season for me. I managed to do a deep cleaning of the fridge and filled it up with goodies from the local farmer's market.
I forgot to show you one of my new acquisitions. I am a big fan of Karen Miller's Katazome work. She cuts the most gorgeous stencils. I saw an oak tree at her show in Philomath, but it was not for sale. She had another which I acquired. I need to decide whether I want to stretch it or hang it loosely. Here it is: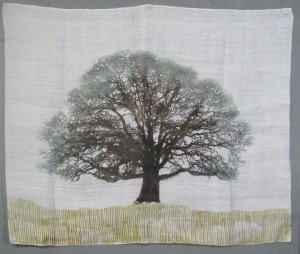 And so my purple haze seems to be lifting or at least transferred.