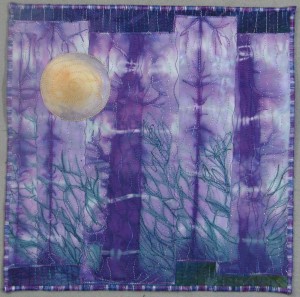 The SAQA auction is doing very well this year. The first set of pieces made $13,625 to benefit SAQA programs. The next set of quilts are up for bid tomorrow at 11 am PST. My piece, Mystical Forest, is in this group. Here is a link to the page if you are interest in placing a bid – SAQA Auction.
We are having busy times around her. Jayme arrived yesterday to help Mark make arrangements for the two events that they are hosting. Lots of visits to The Party Place, Ikea and Costco. They have ordered ribs, sausage and chicken breast to grill on Saturday at the picnic. Tomorrow night is a dessert cocktail party at the Sellwood Yoga studio, owned by former San Francisco friends of Mark, tomorrow night.
This morning I went to a pre-op appointment with Mr C who has surgery next Thursday. Then, Kevin gave me a new redder hair color and a shorter cut, which I am loving. Then it was off to the Farmer's Market to get flowers for the house and then I picked up supper goodies for us and Steve's brother and wife who arrived from California tonight.
To add to the excitement around here, yesterday, the washing machine quit with a load of Mark's clothing locked inside. We finally found someone to come and service it. He found a needle in the drain pipe or filter, or something which had caused the machine to clog and not drain. I am baffled about how the needle got in there, but I have been known to use my shirt as a holding spot for needle and thread when I am hand sewing.
Tomorrow, I will spend time spiffing up the house for the Friday party. We hope to be able to seat 35 people with tables here and there and some additional rented chairs. I rearranged the living room furniture and I love it.
I received sad news about my brother-in-law who has leukemia. He had a serious problem with the atrial fibrillation on Sunday and is now on a respirator. They have also found either melanoma or lymphoma in the bone marrow. The sister who called was not sure which, but the upshot is, there really is no treatment they can do for him at this stage. I am having a hard time managing the happy times here and knowing what the family back in New York is going through.  So these are bittersweet times for me.
I will try to post some photos of our happy times, if I remember to take a camera.