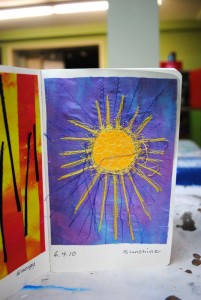 If you don't have sunshine, make some! I have a nasty virus — feeling woozy, achy and just plain sick. At 4 pm today, I took a hot shower and thinking I felt better, I went down to the studio to do my fabric sketch. The sun was just starting to peek through the clouds and became my word for the day.
I did a quick free motion quilted sun with some silk fabrics. I felt so whoozy, I just left my loose threads. I kind of like that. And, I never said that each of these sketches would be masterpieces. This one certainly is not.
Tomorrow promises to be a delightful day with temps in the 70s and mostly sunny. I hope so and hope I feel well enough to enjoy it.