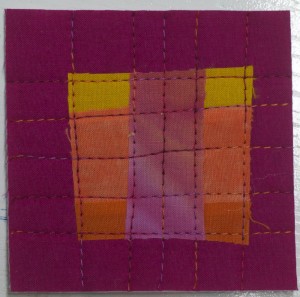 I am home from my whirlwind trip to IQF Long Beach. It was such fun, especially after Karen and Terry arrived on Friday to keep me company. We were so excited to hear the wonderful comments about our Twelve by Twelve exhibit. I loved hanging out there, listening to the comments. Sometimes I would introduce myself and then I would be held captive to answer questions!!
Here is a photo of the three of us with Del, taken on Friday. Del was so thrilled with the reception the exhibit received. I am so happy we did her proud.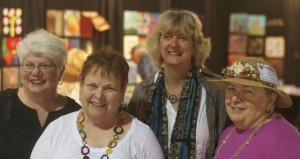 On Friday night, Del and her friends, Sherry and Jim who live on the water in Long Beach, treated us to a Duffy boat ride and dinner at the Long Beach Yacht Club. Here is the boat. It is electric and very comfy.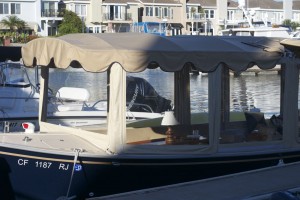 Here are some of the sights seen from the boat. A putt putt boat with a mutt.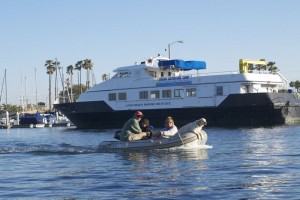 And a person powered Gondola: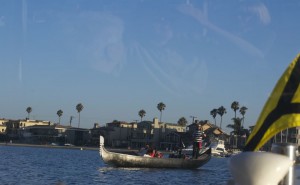 It was high tide so we often had to turn around because we could not get under a bridge. We enjoyed navigating the canals of Naples and looking at all the beautiful homes.
Yesterday before I left, I saw this sight out my window: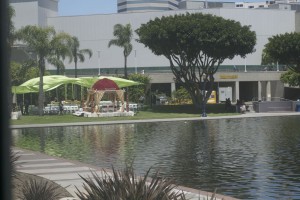 It was a canopy for an Indian wedding. When I was waiting in the lobby, I saw drool worthy Indian saris on beautiful women. The men were wearing some cool outfits, too.
I arrived home last evening and Steph and Jack and Miles picked me up and we stopped for dinner at one of Miles' favorite restaurants. Steve was at an anniversary party for friends that I had to miss because I got in too late and Mia is in San Francisco with Lisa and Clay. She will be attending the Young Artists Program at California College of Art for the next two weeks. She is having quite the summer.
Today, I spent some quality time with Mr C and Scooter who seemed to have missed me!!
I was excited to find this fabric from Frieda Anderson when I got home. I am going to use it for a piece for our Rhythm and Hues show.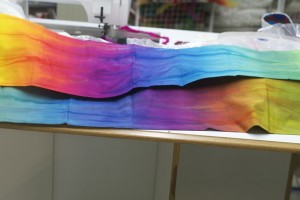 I am only one day behind with my 3 x 3s. Here are two more.