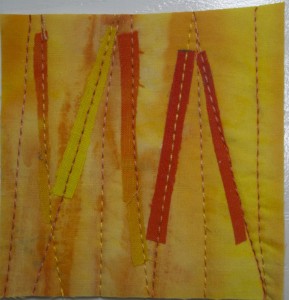 The highlight of my week was going to see The Boss, Bruce Springsteen, in the Wrecking Ball tour. What a wonderful experience. As our friend, Jer said, it was so uplifting to be among thousands of happy people, singing and dancing and just happy to be in the moment. We had great seats, right above the stage, left. We could watch all the action in the mosh pit and had a great view of Bruce and all the musicians. My ears were a bit overwhelmed, but I can still hear today!!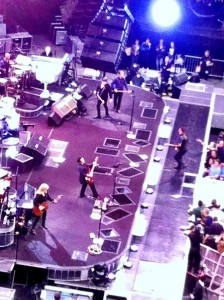 You can see Bruce with his guitar on the center right of this photo. He was so great with the mosh pit — inviting people on stage and taking requests. At times, it was like being at a revival meeting.
Back in the studio, I went to sleep on Tuesday night, knowing I was not happy with the foiling that I had done. I found some Wonder Under and took a big breath and foiled directly on the quilt. My original intention was to have a very impressionistic representations of the organ pipes and I had moved to a more literal interpretation. I am also doing some silver foiling on the pipes to represent how illuminated and reflective they are. I may have gone to far, we shall see.
On the organ case there is an engraving of these words: Cherubim and Seraphim Sing in Endless Praise  Holy Holy Holy. I wanted to include some of the words to anchor the piece. I had to scrounge up enough f the reddish brown fabric and piece it.
I made the largest thermofax screen I have ever made: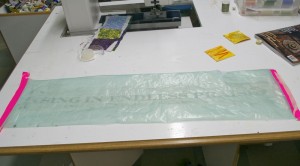 Here is the print. If you click on the photo, you can see it larger.

I have to finish all of the stitching tomorrow and do the finishing touches so that I can do the online registration on Saturday.
Here is the next to last yellow-orange 3 X 3. Then, I will finish off the year with yellow-green!! I have lots of that in my stash.