THE GOOD: I did the washout of yesterday's dyeing. I like all the results of the overdyeing and had one favorite. I am going to show my test projects, but I will not show the work on the actual length of fabric. So here are my samples. Each one is photographed with a piece of pfd silk that was dyed with it. Here is a helpful hint. If you are experimenting with different dyes and want to keep track of what you have done, make labels from tyvek mailing envelopes and write on them with waterproof pen. These are all clickable to see larger. The first sample, with strong orange overdyed, is my choice for the final project. It is the first photo.

Here are the scarves that I dyed. I think I will do another overdye on these or perhaps some screenprinting.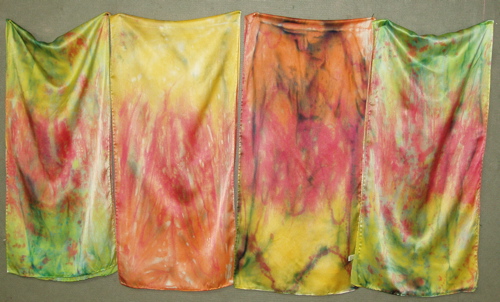 I also fit in some time to do some more exercises for the design class.
THE BAD: My weight was back up at WW today.
THE SUBLIME: Today is Ash Wednesday. Tonight, we had soup and salad at church before attending a beautiful Ash Wednesday service with the "Requiem" by Maurice Duruflé. The mass was written in 1947 so it had a bit of a modern tone to it, even though it was in Latin. The music was sublime. This was followed by sherry and an array of cookies, fruits and crackers and cheese.