The highlight of the week-end was attending a lecture by Faith Ringgold for Black History Month at Reed College. Faith is somewhat legendary among art quilters She does story quilts painted on canvas that have minimal quilting. As a black woman who started her art career 50 years ago in Harlem, she has an amazing story to tell. She was funny, charming, witty, pithy and brilliant. She is still producing work, in her late 70s and a so was a great inspiration to me. She started her art career copying the masters and painting landscapes. One time a gallery owner told her that she couldn't do that and it changed her life. She says that a black person knows how to take a negative and make it a positive. She started doing her quilts that tell the stories of her people and the rest is history. (For more about Faith, Click Here)
While we waited for the lecture to start, I got some silly photos with June, Terry and Reva. The first is June, Terry and I.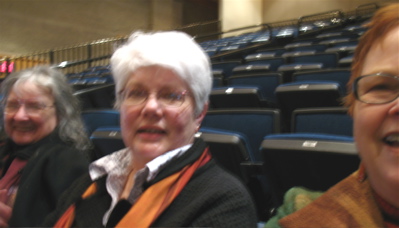 Then, Reva showed up so I had to get a photo of us.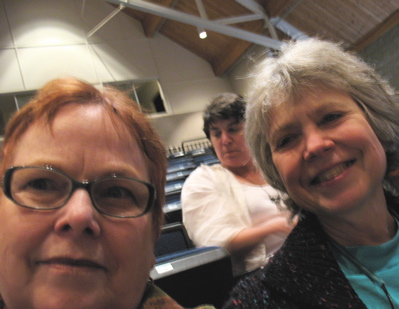 After the lecture, Mr C and I went to Steph's for a delicious dinner of lentil stew with lamb sausage, home made bread, salad and a decadent molten chocolate dessert. Steph and Miles watched Nigella Lawson make them on u-tube so Miles asked to help make them for dinner. So good! We did some Oscar watching. My grandchildren do not watch much TV at all. They rarely go t the movies. Yet, Mia had a great deal of knowledge about the movies and the actors. I asked her how she knows some much. She told me that she reads the NY Times Arts and Entertainment section every day. I could so related to this. Of course, I had no TV in my childhood and I read every thing I could get my hands on.
I spent most of the last few days getting homework done for my class with Liz. I will show some of my work and the tweaking I did after her critiques. (Note: except for the last piece, these are done on 4 X 6 cards. They are exercises, not finished work.)
The assignment was to create a small harmonious composition using 3-4 analogous colors.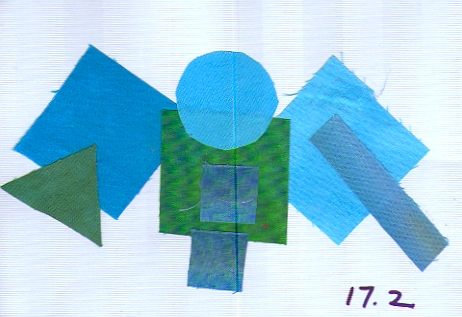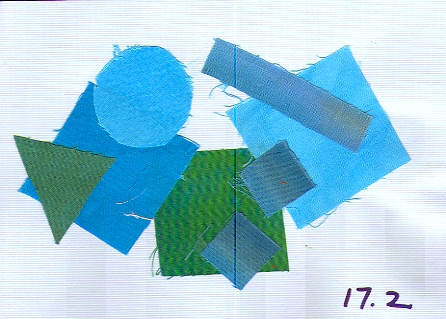 This assignment was to create contrast with color.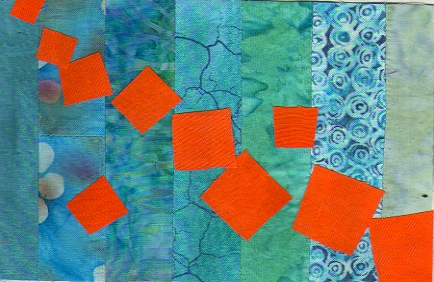 Here, the assignment was to create contrast using size.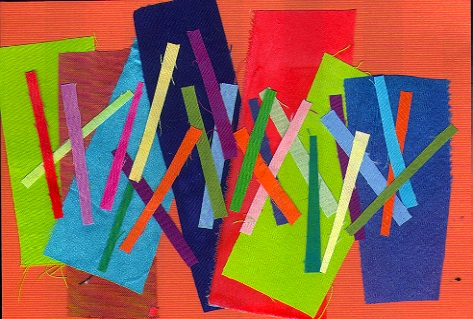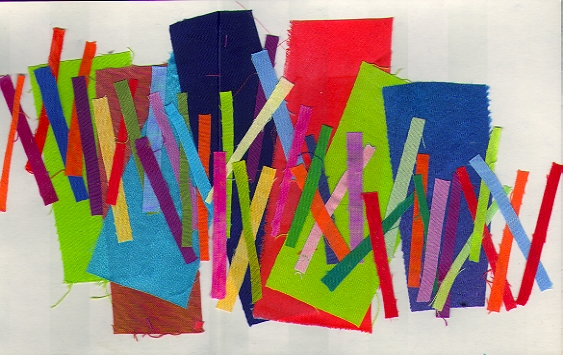 For this piece, we were to make a small piece showing contrast with harmony and balance.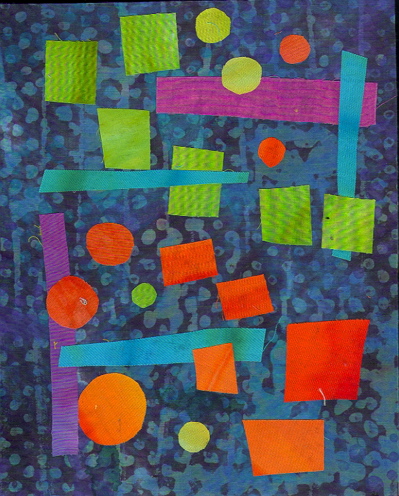 OK, now it is up to you to see what I did to make a better composition!!
I will post more tomorrow.