Next to Mr C, Paul Newman has to be the one guy who could make my heart go pitter patter.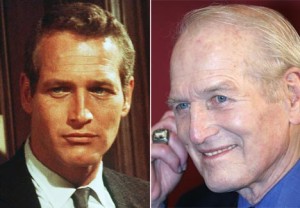 Here is the young hunk next to the older, ill, but still handsome, Paul. He was a true renaissance man — great actor, a kitchen guru, an entrepreneur, race car driver, liberal do-gooder, consummate and devoted husband and father.
The world has lost a great man with the most beautiful blue eyes. Rest in Peace…
*    *    *    *    *   *   *  *   *
I enjoyed the debate between Cranky and Cool, last night. I am biased, but I think Obama won this one. My son, Mark, and Jayme had a debate party/fundraiser last night. I think they all got a little tipsy playing a drinking game based on certain words or phrases by McCain!! I am so proud of them. This morning, they headed off to Reno, Nevada to campaign for Obama.
I have been having so much fun working on my Shelter #2. Even Mr C likes this one. I will explain the whole story soon. Today is Steph and Jack's anniversary so we are going to go out to dinner with them and M & M.
Just want to say that we are having gorgeous fall weather. Hope it holds for next week-end — another story to be told.