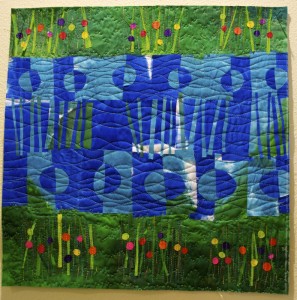 I finished these two pieces except for the zig zag edge.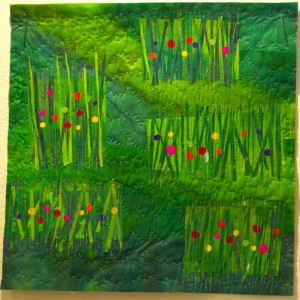 They are 18 inch square. I did zig zag free motion quilting on the green areas of both quilts.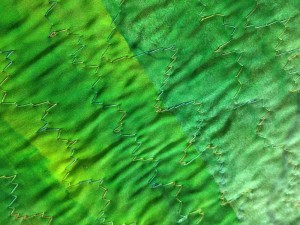 I am putting my solo show on the back burner. I found out this week that the gallery at Trinity will be in use during the time when conference attendees could come. It was going to be a very short show -10 days. Doing all that work for ten days and no exposure to SAQA members was just not worth it to me.
For me to get the work done, I would need to spend most of my time for the next six weeks getting it done. I could have done it. I hope to be able to do the show in 2016 when Trinity selects the next group of artists for exhibits. If not, I have lots of gorgeous fabric to play with.
Now, I have time to make work for shows that I thought I would miss, which is a very good thing. And, first thing to do, is get the kid quilts quilted and sent to New York.
Here are two things I did this week. I made a platter in the clay class, working with slab clay. It is a bit dorky, but we have such a short time to work that there is not enough time to finesse things.
And here is a fun postcard that I made in the Photoshop class – I added Paige to a photo of the rose garden.