Last night, before the Pre-school Art Show reception, we had dinner at the Bistro Montage, near the gallery. The Cajun restaurant has long tables which are shared by patrons. Hanging over our table was this rendition of The Last Supper. The view from the window is of Mt. Hood, with a UFO flying in the background. Jesus is holding the check in his hand. It was quite amusing. (click for larger image.)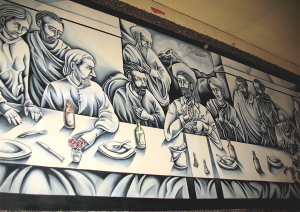 The portions are huge so almost everyone goes home with leftovers, which is part of the experience because the leftovers are wrapped in elaborate foil creations. Stephanie's was a squirrel: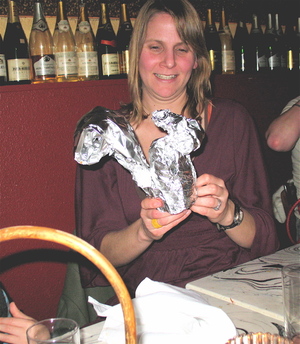 Mia's was a long necked cat: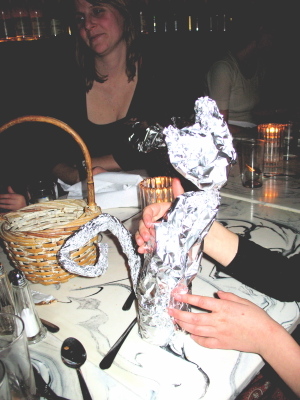 Miles' was a long stemmed rose which he promptly turned in to a sword:
I didn't take mine home because it was too spicy!
We then went down to the art show reception. Here is the quilt which was silent auction item # 1. I put a value of $500 on it and it sold for $250, which made me and the school very happy.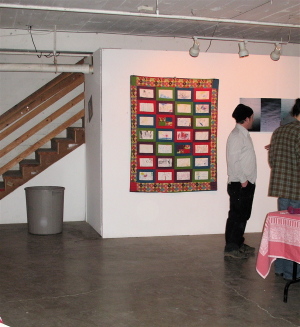 They had many nice items to bid on. I won a nice African basket. They also had artwork by the kids displayed which you could buy for a donation.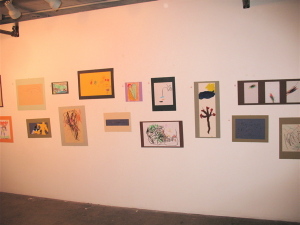 Yesterday, Mr C and I drove over to a lovely nursery on the west side of Portland. I had seen a tree shaped wreath in Sunset magazine and it said they were available there. We bought the wreath, a tree and a poinsettia plant.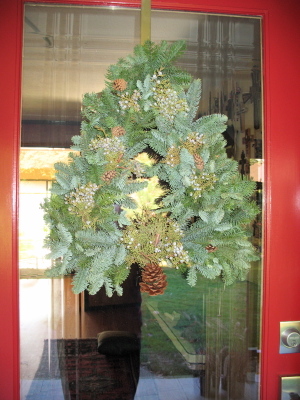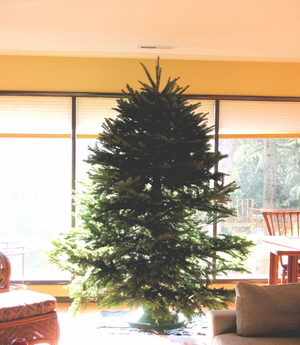 Today, Mr C put lights up around the house. I tried to take a photo. Here is the result.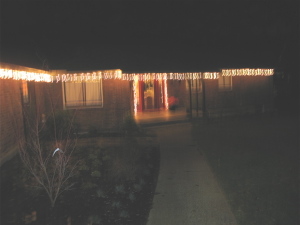 Today, I received a package in the mail from Heidelberg, Germany. Kristin sent me an early Christmas present. At Tahoe, I kept teasing her about wanting some German indigo fabric. Here it is with some German candy and the flier for her solo show which opened this week-end at the Bourgeois Pig. I hope it is a huge success for her!!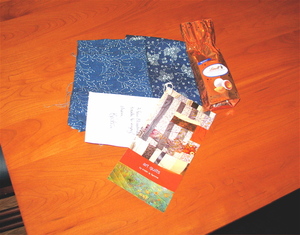 I finally decided to buy this retro fabric for curtains in the kitchen. Don't you just love it. Well, I suppose many of you think I am nuts, but Mr C and I love it. We were going to go to California next week-end, but have postponed it until after the week-end. We are afraid of dealing with bad weather. So, now I have extra time on my hands – guess, I will make some curtains. The background is greener than it looks in this photo.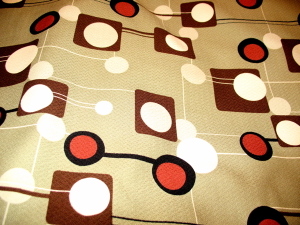 Tomorrow evening, Steph, Jack and M & M are joining us for Lessons and Carols at the Cathedral, one of our favorite Christmas services. I guess the Holidays are in full swing.