… and so are you, if you are reading this blog. This year the honor goes to anyone using or creating content on the World Wide Web. Congratulations to us. I wasn't thrilled with the photo they used!
And now, back to our regularly scheduled programming:
My Health: Thank you sooooo much to everyone for your well wishes. It is so hear warming to hear from everyone. I am feeling much better. After a day of staying in bed, I felt much better yesterday and took Maggie for a short walk. In the afternoon, I finished cutting fabric for the other window in the kitchen. I still have to do the hems and stitch them together. I will be very careful of the pins.
Today, I spiffied up the house a bit and took Maggie for an hour walk around the neighborhood. We had some very wild weather on Thursday night, but fortunately, we did not have downed trees or a power outage, like Terry and Reva (who lives up the hill from me).
This afternoon, I went out to get ingredients to make cookies for the church coffee hour tomorrow. On the way, I stopped at Stars, a local antique mall. I found some great stuff for my girls for Christmas. I can't show you pictures because that will spoil their Christmas. I will show you what I found for Mia's doll house, which her Mom is giving her tomorrow for her birthday. I found this vintage kitchen set: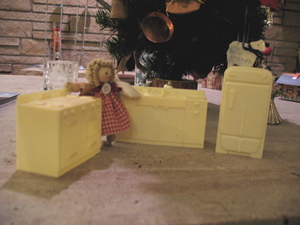 Mia will be seven. We are going out to lunch for sushi (her favorite food) and then to The Nutcracker Ballet. Then back to Steph's house for pizza and opening of gifts. We have these wrapped in non-holiday colors, ready to go.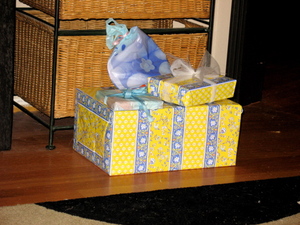 I made Golden Rugalach for coffee hour tomorrow. It has a cream cheese pastry filled with a paste of hazelnuts, apricot preserves and golden raisins. The recipe is here.
Here is the dough: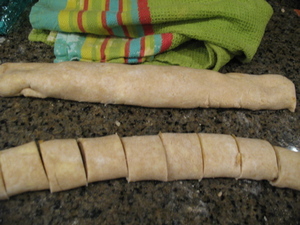 Baking in the oven: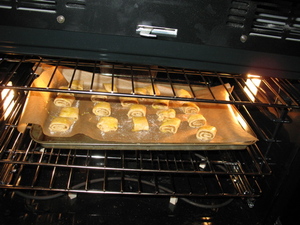 Cooling: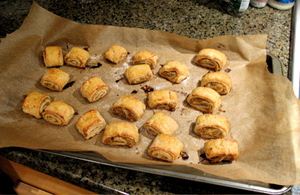 I have been watching a lot of documentaries this week. I highly recommend The Gleaners and I and Sketches of Frank Gehry. Both were very beautiful to watch and creatively inspiring. Tonight, we are watching An Inconvenient Truth which is scaring me to death. We were supposed to go to a Christmas Party given by our neighbors who publish the magazine, Atomic Ranch, but I decided to stay home and stay rested.