Today, Steph, M and M and I drove out to Beaverton to Uwajimaya. This is a huge store of all things Japanese. Cute things, tasty things, wonderfully designed craft books, all in Japanese. You feel as if you have been transported to Tokyo. I found some great stocking stuffers and gifts.
As promised, I want to share the nice things that Jeannie sent for the girls and I. Jeannie, I gave Mia her red silk blouse today, which she loved. And Stephanie got the apron, vintage towels and the vintage instruction book. This photo does not do the apron justice. It has a bib front with eyelet trim – Steph loved it. The towels have a vintage Mexican motif.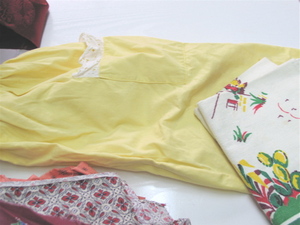 This birch bark and the unfinished crewel owl pillow are designated for Lisa.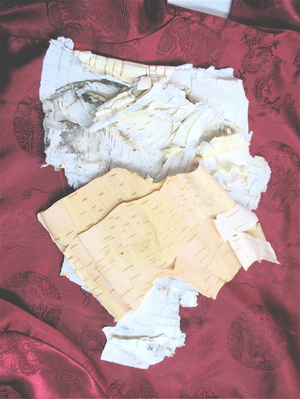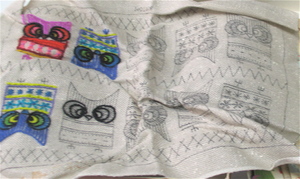 And for moi, this beautiful hand-dyed silk: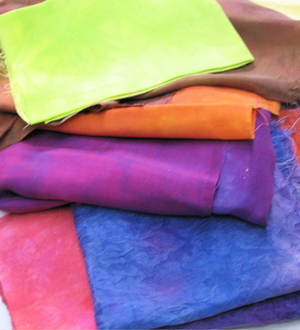 The box was filled with vintage buttons, trims and fabric which Lisa and Stephanie will sort out and share later this week when Lisa arrives.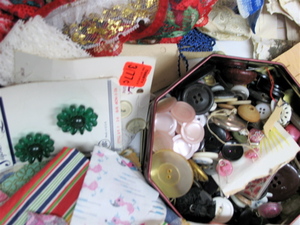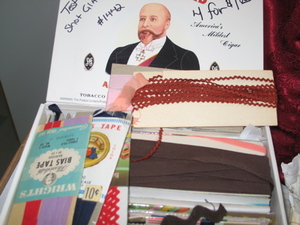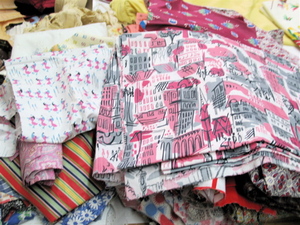 I know that Lisa is looking at this and salivating. If any of you follow my daughter's blogs, you know how they love vintage. Thanks, so much, Jeannie. I know you will be hearing from the girls, soon.
Hair update. Last week, I was due for a color update from Julia. She was unable to be in the salon because of a family emergency. In the meantime, I decided that I needed to try someone else. Today, I had a great color and cut done my Joseph at Hair Architects. It is the color that Cynthia used to do. Finally, someone understood and was able to give me what I want. I don't like to fuss with my hair. I wash it, dry it, add a little product and spike it a little. Joseph gave me that kind of hairdo. I didn't need to come home and undo what was done. I am a happy camper, tonight.