I finally got a nice batch of alginate paste. I mixed up some thiox with the paste and added some turquoise dye. I wanted to practice on something before I hit the beautiful silk art cloth. I made a curvy line design on a silk screen and did some pulls on one of the silk scarves.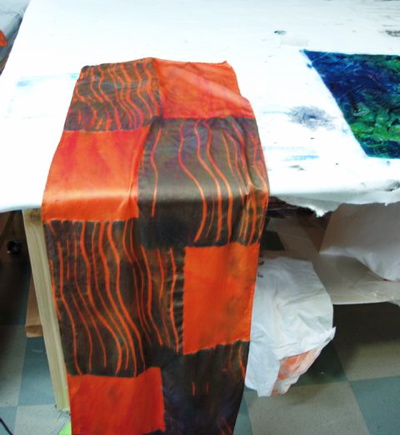 I ironed it with steam to activate the discharge, but didn't get a photo, yet. It looks pretty cool.
Remember this piece of fabric from my soy wax batik session with Ginger last fall?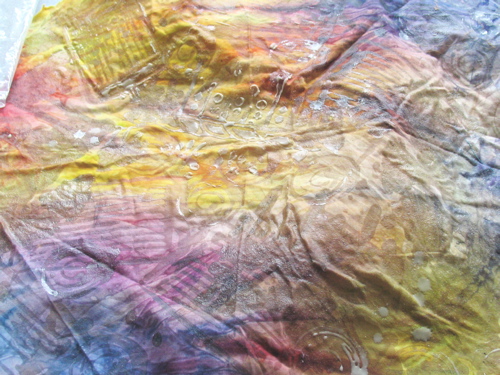 It has been sitting in my studio, still waxed, waiting for the next thing. I brushed it with the turquoise discharge paste. I can't wait to iron it and see the results.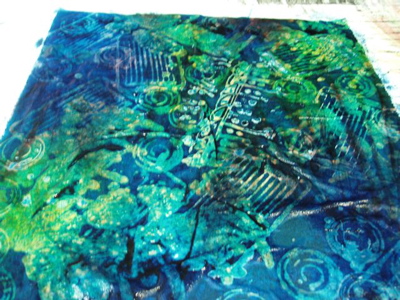 This afternoon I went out and bought the largest silk screen that I could find so that I can do a larger image on the 2 yards of fabric that I am working with. I will do a design with masking tape and pull the discharge paste in a few areas. I want to test the turquoise on the scraps of fabric that I have. I think I might like to add another color to the cloth.
I am behind in Lizzie's class because I was too busy with the discharging to sit down and do my homework. Mr C is at a retreat this week-end so I am free to play in the studio, uninterrupted — except for walks with Miss Maggie.