It has been a busy week-end around the house. M & M came by on Friday and spent the night with us. It was rainy all the while they were here so we had to entertain ourselves in doors. I even managed to get my office cleaned up while they were here, hanging out in the basement with me.
On Saturday morning, I was watching CNN's Ballot Bowl. (That is the political junkie in me.) Here is part of a conversation with Mia:
M: Who are you voting for Grandma?
G: Obama!
M: So is Mommy.
G: That is good to hear.
M: What does red states and blue states mean?
G: Red states are more Republican and blue states are more Democratic.
M: What is Oregon.
G: Blue.
M: I'm glad to hear that!
Steph said that she and the kids listened to Obama's speech on Martin Luther King Day and the kids were totally engaged for about a half hour.
I wanted to do some follow-up with the Chocolate Love piece. Here is the piece that is on the 12X12 blog.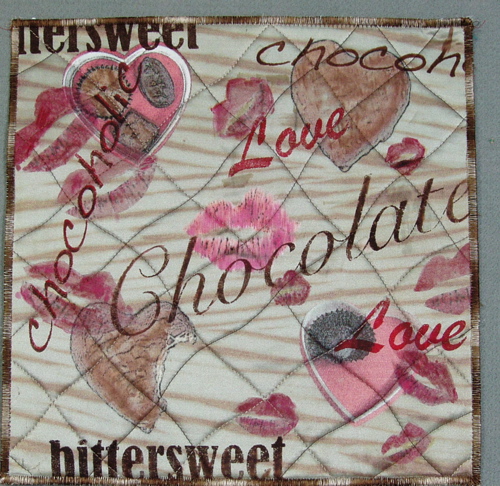 If you read my story on the blog, you know that this was my second attempt. I couldn't stand the first one once I was done quilting. Then, I looked at it yesterday and decided maybe it, too, could be saved.
Here is what it looked like when I was done quilting. I actually trapuntoed the images by stitching extra batting under them and clipping close before I added the back and did the quilting. One thing I liked about this is that the colors printed in richer colors for some reason.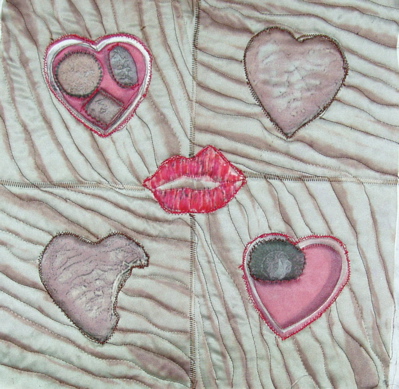 But, alas, it just did nothing for me. I thought it was the grid that was making it seem predictable. As is turned out, that was not the problem. I think it just needed more of something. So I did some screen printing and added some kisses.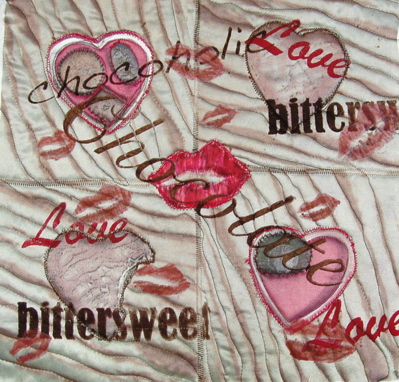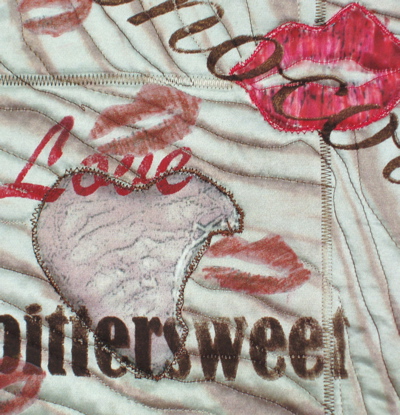 The edges are not finished. I think that I will face it. I was also thinking of binding it with red organza. So, you get to tell me, which one should be in the 12 X 12 group. I can make an exchange, I think.
It took me some time to finish this because I wanted to take a photo before and after and MY CAMERA STOPPED WORKING! I found my old Olympus, but I didn't have a charged battery. The first lithium battery was defective so I found another and charged that. I have totally forgotten how to use this camera. It seems like such a dinosaur compared to my Canon. So the Canon is going to the shop in Illinois. They say there is a 7 day turn around once they receive it.