I have been so lacking in energy and ideas. I have been avoiding my studio like the plague. The sun has come back to Portland, and with it has come my momentum.
Remember this scarf that I discharged in January?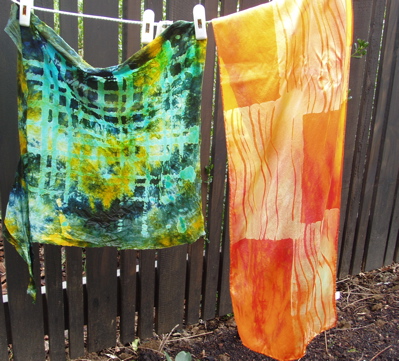 I decided to add some layers and donate it to the silent auction. First, I screenprinted a subtle filigree design with copper paint.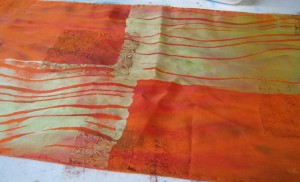 I painted some foiling glue on bubble wrap and pressed it on the scarf in a cascading design.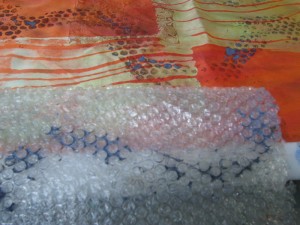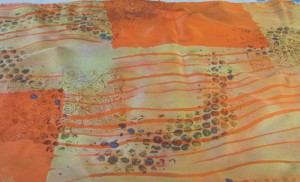 I forgot to take a picture of the foiling process. After the glue dries for at least an hour, I lay a sheet of foil over the glue and hit it with a hot iron, transferring the foil. I used a combo of gold and copper foil.
Here is the finished scarf: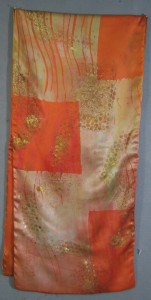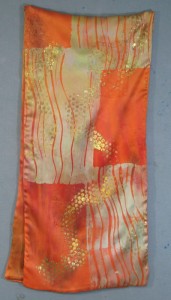 Here is a closeup: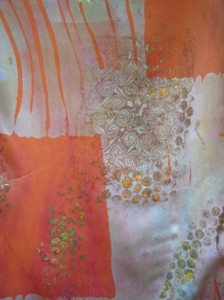 Because the glue showed through on the back side as dark spots, I decided to line it with another scarf. It is quite elegant, if I do say so myself.
I am excited to say that two of my collages for the Collage Mania Fiber Art for a Cause sold at the opening bell this morning. I was able to acquire collages by Lizzie Berg, Jette Clover and Karen Stiehl Osborn. So happy with that!! There are still lots of wonderful art to be purchased and the price drops to $40 tomorrow. I still have one left to be purchased. Go here to see them and make a purchase. 100% of the money goes to the American Cancer Society.
Tomorrow, I start the serious business of packing for our journey.