I am so brain fatigued by the time I get a chance to blog. I was falling asleep and remembered a couple of more things I wanted to post. One is a photo from the beautiful Othodox church that we visited in Nazareth. We asked permission to sing a Taize chant, and it was breathtakingly beautiful – wonderful acoustics.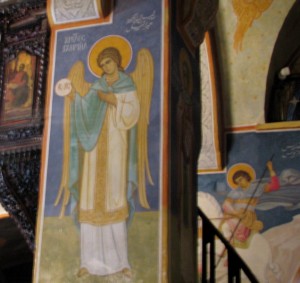 Some things that have delighted my soul.
Listening to the Muslim call to prayer since we have arrived. It is hauntingly beautiful
Watching a Palestinian grandmother and grandchild smiling and waving at us from a balcony in Nazareth.
Catching a wave and a smile from an Israeli soldier on a bus that was stopped next to us at a traffic light.
Smelling Jasmine at the kibbutz after a dousing of rain during the night.