I have been out of touch because we lost WiFi at the kibbutz for a day. Yesterday, we visited two sites that were in out of the way places and off the beaten path. It was much more peaceful. Our guide was asked to give us some quiet time on the bus.
We drove up the Golan Heights to the ruins of a Jewish town named Gamla which is (I think) the Hebrew word for camel. If you look at the photo below, you see the shape of the geography that resembles a ridge on a camel's back. We did not hike down to the town, we observed it from above. You really can't see the ruins in this photo. The geography of this area was spectacular. The sea of Galilee is off in the distance.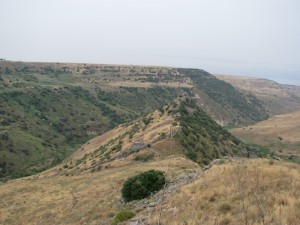 The site is a nature preserve as well as an archeological site. I enjoyed the various wild flowers in bloom. This thistle plant abounds in Galilee.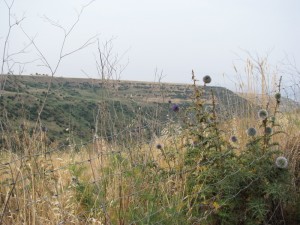 We then drove to Korazim, the remains of a Jewish town mentioned in the Babylonian Talmud as renowned for the good wheat grown there. This is the sign which greets visitors.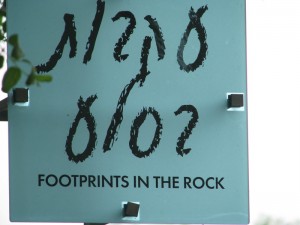 I include this because rocks and stone are such a presence in this country, even modern homes are made of concrete. But the remains of past civilizations are revealed in the rocks and stones of their homes and crafts.
The remains of the synagogue in this town were especially beautiful. I took lots of photos which can be seen on my Flickr site.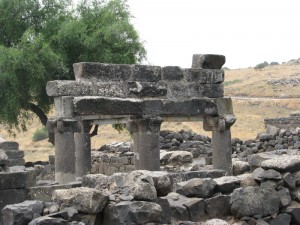 Here is Mr C finding some quiet time in the ruins.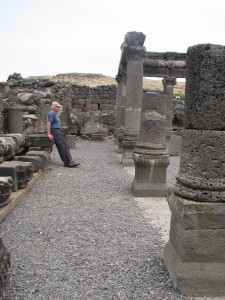 We literally had this place to ourselves by the end of our visit. Our resident priest, Mary Anne, set a table for a communion service. It was a lovely experience to share the bread and wine, from our kibbutz, and served on pottery purchased here in the Galilee.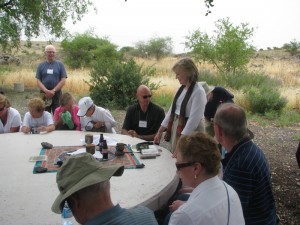 Just a comment on my last post. I was probably very jet lagged and a little grumpy. I was taken aback by the commercialism, but I am having a wonderful time. But, let me tell you, there is not much free time. Tomorrow we are off to Jerusalem. So excited! I hope to have a chance after dinner to post some photos of our visit to Sepphoris (Zippori) and Nazareth, today.