…that was our travel time from Jerusalem to Portland. We awoke at 3:30 am in Jerusalem and arrived home at 11:00 pm last night — the longest Thursday I have ever spent. After a hot shower and snuggling in my own bed, I slept for about 7 hours. And yet, I am totally brain dead today. I managed to get the laundry done, shop for food for a couple of days, sort the mail, take a nap and take Maggie for a walk.
My internet service ran out on Wednesday morning and I opted not to sign up again. On our last day in Jerusalem, we went to the Bible Lands Museum and the Israel Museum. At the Bible Lands Museum, we saw a fantastic model of Jerusalem before the temple was destroyed.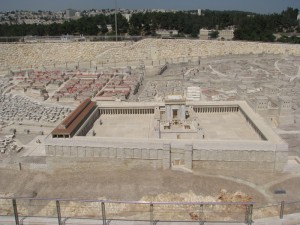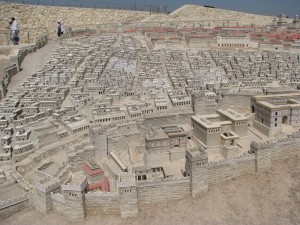 For a perspective, this man was making a repair on the model.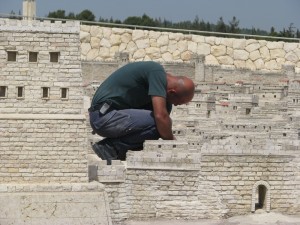 At the Israel museum, we saw the recovered Dead Sea Scrolls. I was amazed at the condition of the writing. The Hebrew scholars in our group were able to read the scripture, which was from Isaiah.
Here are some photos I took from the bus on the last day — just an idea of the sights and sounds of Jerusalem.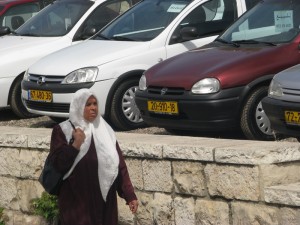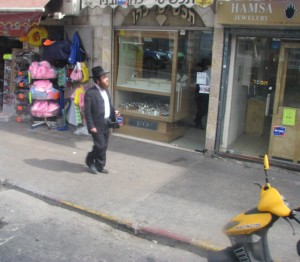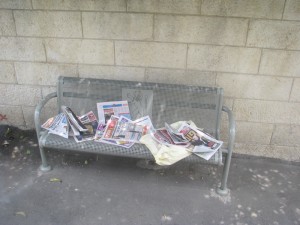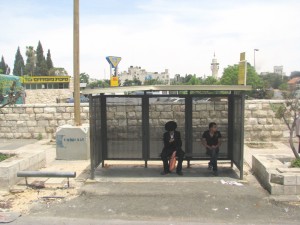 We had an early end to our activities so Mr C and I had lunch at the hotel and then headed to the Old City for some serious shopping. I will share my purchases another time. We got lost in the Old City and we were rescued by a Muslim boy, about 9 or 10 years of age. We were trying to find our way to the Damascus gate and were headed for the closed Muslim gate. He was happy to guide us for some money, which we happily gave him. We were often warned about going to the old city and getting our pockets picked, etc, but we never felt threatened and found most of the vendors to be helpful, honest and very friendly.
On our last night, we went back to Bethlehem, through the gates and the check-points, to have dinner at the same restaurant, as the guest of the owner of the tour group. On our trip back, we had to show our passports again, this time on the bus, to a machine gun toting Israeli security guard. I will never take my freedom for granted, again.
Israel is well-known for the security of their airport. Here is how it works. When you arrive at the airport, you are first questioned about the nature of your flight. If you are not an Israeli citizen, you are questioned about the nature of your visit, where you have been, etc. You show your passport and tickets. Then your luggage is sent through an x-ray machine. You pick up your luggage and check in at the ticket counter. After that, you go through a couple more passport checks and hand luggage x-ray. You can take huge bottles of water and other liquids. You do not have to remove your shoes. This says to me that in the US, we are subjected to some useless precautions just to make us think that we are being protected.
I just realized that it is wake-up time in Israel. My days are turned upside down, and it may take me some time to get back to normal. When you find yourself in a new time zone at the beginning of a trip, you have that nice adrenaline rush to keep you going, but coming home is a whole different story.