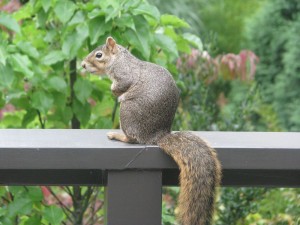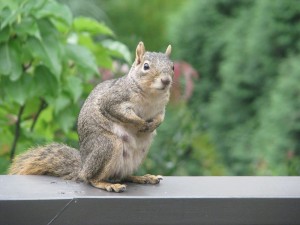 If you saw the movie Up, you realize that I am trying to distract you. I feel as if I have been slacking a bit. I did finish the edging on the post cards and they are ready send out. I uploaded some new work to my website and did an online entry to Form Not Function. This afternoon, I went shopping for some new clothes. I needed some comfortable stuff for everyday wear. Mr C gave me a gift  certificate to Chico's which I have yet to use. Didn't get there today, either. By the way, the squirrel was on the deck this morning, looking at me through the kitchen window.
I did some binge shopping on Amazon the other day.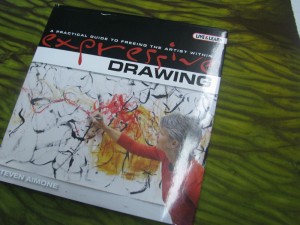 This is a very cool drawing book by Steven Aimone. It has lots of neat exercises which I hope to do.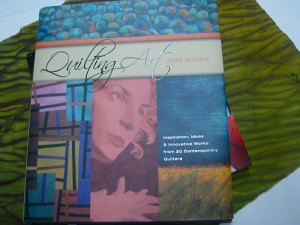 This new book, Quilting Art, by Spike Gillespie as loads of eye candy work done by 20 contemporary, many that I know and some that are new to me.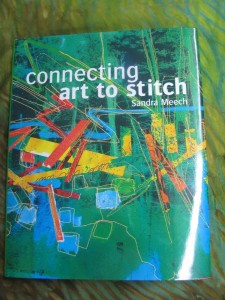 This book by Sandra Meech is filled with gorgeous work and art classes that you can take to learn her techniques. I think I will have fun with this, too. I am trying to get myself back to creating more of my own fabric. I so admire my artist friends like Judy Carpenter and  Connie Rose, who get into the studio every day and do the work.
Tonight, I started stiching the black hole piece. I decided not to paint another one. I think I can have fun just stitching and adding some bling to this. This photo has a lot of glare on the foil so it looks a bit weird.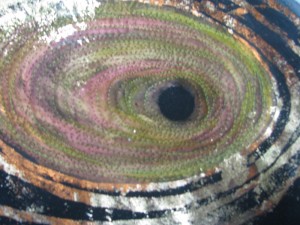 Tomorrow, I am looking forward to an art date with Terry. We are going to see the work of art quilter, Mary Catherine Lamb, who recently died from cancer. She was too young. Her is a link to a video about her and her work.