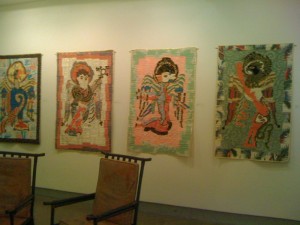 These are quilted images of Matthew, Mark, Luke and John, created by Mary Catherine Lamb. She was an incredible fiber artist and recently passed away from a recurrence of ovarian cancer. Some of her work is on view at the Nine Gallery in Portland.
I met Terry Grant there for a long overdue art date. We started at the Contemporary Craft Museum. Saw some interesting stuff. I was very enamored with the pojagi pieces done by Jiseon Lee Isbara, associate professor and head of fibers department, Oregon College of Art and Craft. She will be speaking to my guild at our June quarterly meeting.
Our main purpose was to see Mary Lamb's work. She used all manner of fabrics from old table cloths and curtains to more contemporary quilting fabrics to create her complex pieces. Each one is made up of squares. Each square is like a completed little quilt. If you click on this, you can see the squares.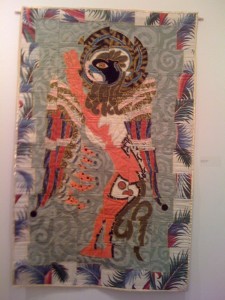 These pieces were my favorites: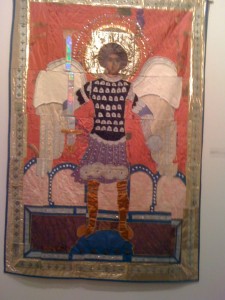 Above is the Archangel, Michael and below is the Angel at the Tomb – my absolute favorite.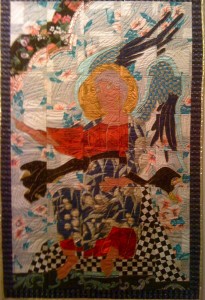 Anyone who has been in my home, knows that I love religious art. Mary collected it, also. Here is the Virgin Mary with cooties. I want this collection!!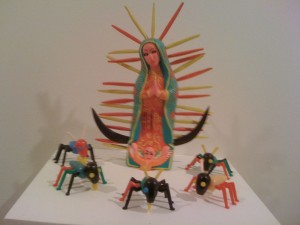 Terry took me to Park Kitchen for a belated birthday lunch. We shared two incredible desserts after eating healthy soup and salad. One was a lovely lime concoction with lime curd and topped with house made crackerjacks. The other was a plum/tomato crisp with basil ice cream. They were both delectable and not sugary sweet.
OK, now let's talk about my work ethic. I only post when I have done something. You all don't know about those days when I am languishing on the sofa playing Bejeweled Blitz on Facebook.
Over on 12 X 12, we are taking turns handing out awards to each other. Today, Diane did Most Likely to be Pulled Over by the Quilt Police. It is so funny. You have to go read it.
I did manage to read the first chapter in Expressive Drawing. I think it will be a fun book. I love this quote from the first chapter.
When my daughter was about seven years old, she asked me one day what I did at work. I told her I worked at the college—that my job was to teach people how to draw, she stared back at me, incredulous, and said, "You mean they forget?"