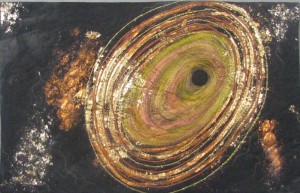 This morning, I got myself down to the studio so that I could finish this, now named Celestial Black Hole. Last night at my theology class, I unquilted the black areas. It really was a mess and the wrong thread — a metallic silver and black — which kept shredding in the needle. I sometimes like pulling out quilting threads. I don't know why. Maybe it is because I am fixing something and that is satisfying.
I requilted it with a wavy line using an understated black, copper and gold. I then added some celestial glitz with some gold mica chips in gel medium. I am not all that thrilled with this piece. I am hoping that I can do a better job of finishing the other piece. I have this problem of not wanting to do work that is too perfect (probably because I can't!), but really, even if I could, I like a more organic look to my work, but this piece is a little more sloppy than I like to show.
Here is a detail: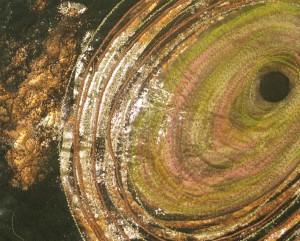 I took the photos using my new lighting system that arrived today. There are two of these lights with fancy carrying cases. Not sure  where I would take them. Anyway, I got my piece uploaded to the Fast Friday Fabric Challenge (not fast for me) Yahoo site and Blog.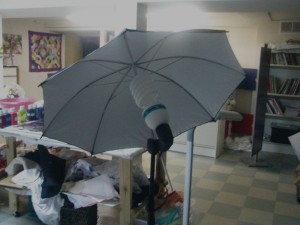 Yesterday, I received a sweet little package from Kirsty in Australia who is part of the 12 X 12 group. She just opened a shop called PomPom Rouge. She had these gorgeous hand-dyed embroidery threads that I loved. She sent some to me. Can't wait to use these.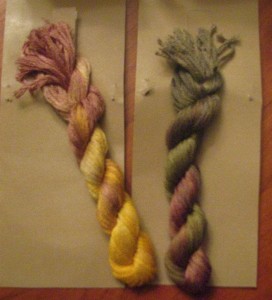 Tonight, I got to have 15 minutes of fame at High Fiber Diet meeting. So I packed up a selection of my quilts. It was fun to show some of my early work.
I had leftover lamb from the week-end, and I made the best lamb and lentil soup which we had with feta cheese garnish and pita bread. We had to eat early so that I could rush off to my 6:30 meeting.
During the meeting, we made Momigami paper. This is a way of treating paper so that if looks and behaves like fabric. I used some magazine pages. You start crumpling the paper.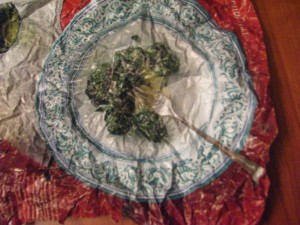 It is a great way tor relieve stress. You just keep kneading it in your hand and then add a drop of oil to your hand and continue then add another drop of oil and keep this up until you have added 5 – 7 drops of oil. Then, you iron the paper between paper towels or brown paper. Here are my two sheets,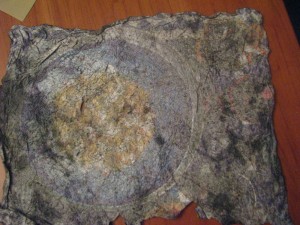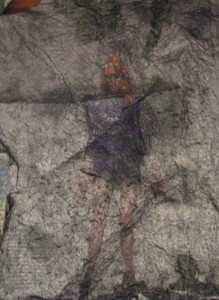 These can be cut up and used in collages. Depending upon what you start with, you can get very different results.
So that was my very busy day. I wish I had had time for some Expressive Drawing. I am feeling so much better and have a lot more energy. I was afraid that I was going to start acting my age!! Not yet.