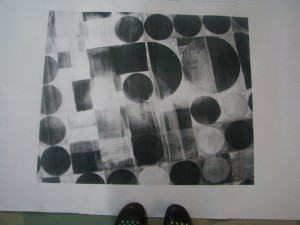 High Fiber Diet is doing a show titled Bird's Eye View. I looked through my photos taken from planes. I cropped out a section that looked interesting and printed it in black and white. I took it to CopyMax and had it enlarged to the max. You can see by my shoes how large this is. I will start with this size, but I think I want to make one larger. I will have to slice the photo and enlarge each section and then tape them together.
I am so excited about the possibilities of this layout. I can't wait to get started. I want to do some hand stitching when I am on a trip later this month so I need to get at least one put together. Woo hoo!
Yesterday, Mr C and I went on an art date to the Portland Art Musem to see the China Design Now show. It explores the explosion of modern design in many areas  including architecture, print and clothing. The architecture is amazing. My favorite items in the show were these large birds beautifully adorned with organza rectangles that had been stitched like pojagi with French seams. So gorgeous. The fabric was laid over a metal frame like feathers.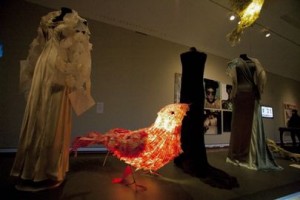 We had a lovely dinner out at one of our favorite restaurants where we sat at the bar and had a good time chatting with the young bartenders, who doubled as our waiters. I had lamb spiedino with sauteed spinach and pickled red pepper. The lamb melted in my mouth. We shared a grilled Jerusalem artichoke, red onion and arugula salad.
We stopped for gas on the way home, and the Lexus would not start. We got a shove into a parking spot. I used the AAA app on my iPhone. It took about a half hour to get help. But after a battery charge, we were on our way home. This morning, Mr C took it for a new battery. We were wondering why the automatic key entry was not working very well. Every thing is working perfectly again. We have had the car for 7 years. It had the original battery. Pretty good.