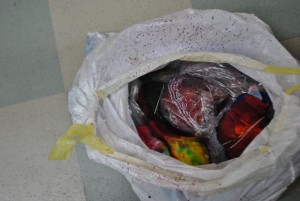 This a bag of plastic wrapped t-shirts and onesies that have been folded, scrunched, twirled and tie-dyed. Here is the other batch: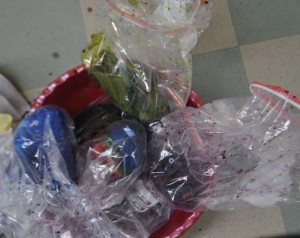 Not very pretty pictures, but I wanted to show you what I have been doing today. That nice red plastic container and one of my bags must have sprung a leak: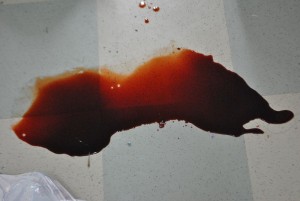 Not to worry, it is all cleaned up.
I am tie-dyeing stuff for all my great nieces and nephews. I wanted something special to give them when I go home for the reunion. For the youngest girls, I used hot pink, purple and turquoise. For the other shirts, I used mixing blue, mixing red and lemon yellow. I will post photos of the end product tomorrow. Even though it is quite warm here, I am pretty tired and so I will let them batch overnight.
I saw the Dr. yesterday and we decided I had a full blown sinus infection and so I am on the Z pack (Azithromycin). I felt quite a bit better this morning, but still had a nagging sinus head-ache. I forged ahead with my day and I am feeling much better tonight.
I received notification of another quilt accepted into a show today. High Desert Aspens was accepted into the Oregon SAQA show, our first ever. 32 of 50 quilts were accepted. I didn't really think my other two quilt would make it.