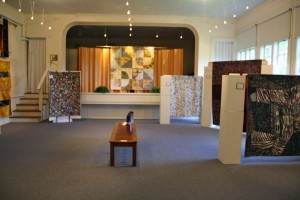 Three of my friends, Terry, Suzy and Gale, joined me for a mental health break today. Terry, my intrepid chauffeur on so many Oregon jaunts, drove today through some rather nasty rain. I appreciate so much that she is willing to do this!! Above is a view of our destination, Cynthia Corbin's exhibit at the Latimer Quilt and Textile Center.
Our first stop was at the Blue Heron for a delicious lunch and tasting of cheese and other products.
Then on to the Latimer: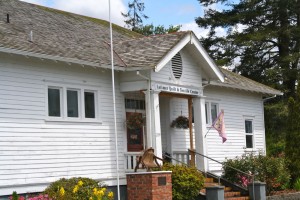 Here are some more shots of the show. They are not my best photography!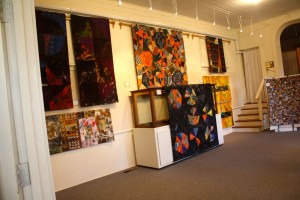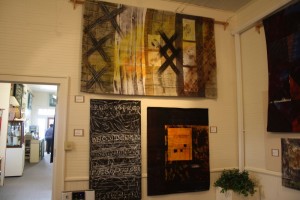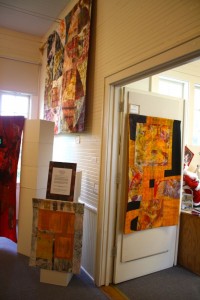 Cynthia creates beautiful abstract compositions from her delicious fabric. Many of them used oil paint sticks in big swooshing designs – like those big X's.
This charming alpaca was staring at me in a fenced in yard near the center.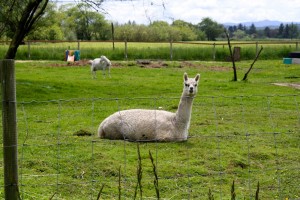 Our next stop was at the Tillamook Cheese Factory. I had a delicious single scoop of Utterly Peanut Butterly ice cream. I didn't buy any cheese, but I couldn't resist these ice cream buckets for 50 cents each for dye pots!!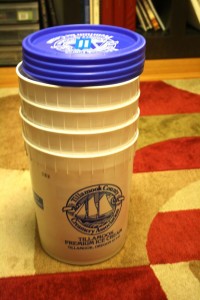 And here is a shot of the ubiquitous Tillamook cows.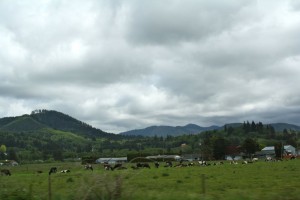 Tonight, Mr C and I went to Trinity for Wednesday night dinner and a class on medical and end of life forms and programs like advanced directives and hospice care, etc. It was very interesting.
Tomorrow, I start the big studio clean up so that I can find the space to make some fabric and art.