I made this piece in 2008 and it was in a couple of shows. I named it Fragments of a Life. SAQA has a call for entries for a show titles "Layers of Memory". I thought this piece might work for the show, but there were parts that I did not like.
Here is the original: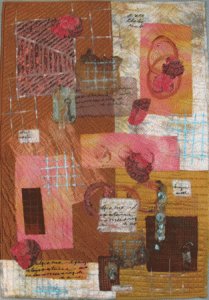 When I made it, I ended up filling areas with turquoise paint. I think I dripped some paint and just camouflaged it by adding more paint. I covered some of those areas with some discharged silk that worked with the palette and then collaged some old photos after I printed them on silk organza. I think it is meatier now. You can click on the image to see it larger.
It was good to get back into my studio after 5 days of a nasty virus. It was not easy, but I am glad I pushed myself to finish this.