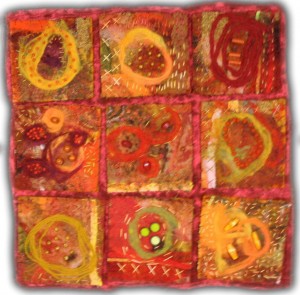 There was something really bugging me about my Spicy Nine Patch so I did a do over. You can see the first one here. I had too many blocks with the yellow ribbon border.  I would like to take one more out, but am forcing myself to stop!!
I received some more felting needles in the mail this week. I ordered them from a very informative felting website — Try Our Designs. She has some excellent information on machine felting, needles, needle breakage, etc. She has needles in different sizes and they are cut to fit specific machines or attachments. I am anxious to give them a try.
I have had such a good day. I made great progress in cleaning up and organizing my studio and office. I have a bit more to do and then I can get to work on some new projects. The weather today was a mix of rain showers and lots of sun breaks. We are due to get some really nice weather for the next few days. I can't wait.